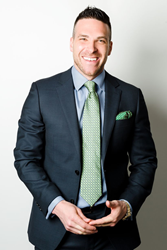 47% of Millennials would leave their job in 2 years, or would be willing to. It is important for employers to show millennials growth within their position to stay passionate about their job.
New York, New York (PRWEB) August 15, 2016
Millennials are entering the work force in masses --- and they will shape employment for years to come --- so the question becomes, how do you keep a generation of people known for their entitlement happy at work?
FiOS1's Christine Persichette recently sat down with a millennial, Ralph DiBugnara, to find out what this generation is looking for as they head out into the working world.
In the interview with Ralph DiBugnara, he stresses that more than anything, Millennials want ownership in their position and they thrive most when they feel like they have meaning in their jobs.
As a mortgage banker with an eye on millennial demographic and a reputation as a media liaison, Ralph is redefining the role of the banker in today's buyer-centric real estate market. Featured on CBS, WOR, iHeartRadio and several other media outlets, Ralph keeps his attention firmly focused on the trends and tides of the new world real estate game.
As VP of Residential Home Funding Sales Division, Ralph established the Consumer Direct Division as a response to the evolving needs of clients. This division offers a network of affiliate programs and incentives based on the professional associations of each client, a single example of the multitude ways Ralph prioritizes and prizes the needs of the client. The Consumer Direct Division, under Ralph's guidance and upon his broad shoulders, has gone on to serve clients in thirteen states in the Northeast.
A competitive athlete, battle tested in boxing rings and Spartan courses, Ralph DiBugnara is a radically different mortgage banker and real estate expert. He applies the same relentlessness and ferocity for winning to helping new homebuyers find and finance their homes.
Prior to joining Residential Home Funding, Ralph DiBugnara was a Senior Vice President & National Branch Manager for ICG Home. Ralph joined ICG in 2008 and with his trademark tenacity and customer driven approach established the company's first consumer direct branches in Pennsylvania,Arizona, Florida, Missouri, Ohio, and Massachusetts