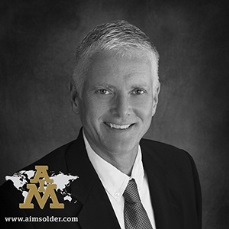 Cranston, RI USA (PRWEB) August 10, 2016
AIM Solder, a leading global manufacturer of solder assembly materials for the electronics industry, announces new white paper to be released in the coming months, titled "Evaluating the Impact of Stencil Nano-Coating and Stencil Foil Mounting Tension on Overall Print Quality of Miniaturized Devices."
AIM's new white paper, written by Timothy O'Neill, Technical Marketing Manager, is an extension on the earlier study "The Impact of Reduced Solder Alloy Powder Size on Solder Paste Print Performance" and examines the impact of stencil coatings and tension on solder paste print quality on miniaturized components. This paper covers the use of Type 4 and Type 5 solder paste powders on coated and non-coated stencil foils at standard and high mounting tensions, and compares release, repeatability and print definition characteristics.
This study was developed to identify and grade the variables that provide the most improvement on solder paste printing outcomes. AIM's value-add philosophy is rooted in providing top-notch technical expertise and catalyzing improvements in solder assembly solutions.
Timothy O'Neill has over 20 years of experience in the solder assembly for electronics industry, including extensive knowledge with fine pitch solder paste application. He has authored over a dozen industry articles and assisted and solved numerous clients' production challenges. O'Neill is also a technical writer and presenter for industry trade publications and events.
About AIM
Headquartered in Montreal, Canada, AIM Solder is a leading global manufacturer of assembly materials for the electronics industry with manufacturing, distribution and support facilities located throughout the world. AIM produces advanced solder products such as solder paste, liquid flux, cored wire, bar solder, epoxies, lead-free and halogen-free solder products, preforms, and specialty alloys such as indium and gold for a broad range of industries. A recipient of many prestigious SMT industry awards, AIM is strongly committed to innovative research and development of product and process improvement as well as providing customers with superior technical support, service and training. For more information about AIM, visit http://www.aimsolder.com.
Upcoming Events:
August 30, 2016 – SMTA Capital – Laurel, MD
September 27-28, 2016 – SMTA International – Rosemont, IL
October 5-6, 2016 – SMTA Guadalajara – Guadalajara, Mexico