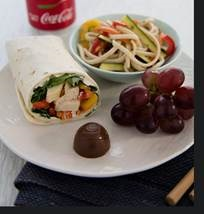 CHICAGO (PRWEB) August 11, 2016
United Airlines, the official airline partner of The Trotter Project, along with restaurants across the United States will celebrate the legacy of super-chef Charlie Trotter on Charlie Trotter Day, Wednesday. Aug. 17 – Sunday, Aug. 21 to raise funds for the Pillars of Excellence Mentor Program – a Trotter Project youth mentorship program which seeks to educate, train, and offer opportunities for the next generation of aspiring chefs and hospitality professionals.
New to this year's Charlie Trotter Day celebration is a special collaboration with United Airlines. The airline will donate $1 for every Choice Menu Bistro on Board item sold on all domestic flights during the Charlie Trotter Day celebration, Aug. 17 – 21, 2016. Several Trotter Project supporting chefs worked in collaboration with United to create and inspire the airline's Bistro on Board menu.
"Charlie Trotter Day is an opportunity for the culinary and hospitality communities, including our partner United Airlines, to reflect on our shared love of food and passion for excellence," said Derrek Hull, Executive Director of The Trotter Project. "We are committed to carrying forth Chef Trotter's legacy as a mentor and are humbled that so many chefs, including Carrie Nahabedian, Thomas Keller, Markus Glocker and more, along with additional partners like Chef Works, Table8 and The Peninsula Chicago share our mission. The Trotter Project answers the need for career opportunities, pathways for growth, and consistent mentorship for the next generation."
Hull added, "United Airlines understands the legacy of Chef Trotter's work and the importance of inspiring the next great generation of chefs and we are thrilled United Airlines is inviting its customers and employees to join in the festivities this year. The annual Charlie Trotter Day celebration is an opportunity for the culinary community to reflect on our shared love of food and renew our passion for excellence by working to educate and inspire budding talent."
"For the past year and a half, United Airlines has worked with The Trotter Project's world-renowned chefs to offer our customers innovative dining options on our flights around the world," said Sandra Pineau-Boddison, United's senior vice president of Customers. "This partnership is just one way United employees and customers can give back to an organization that shares our commitment to continuing the legacy of Chef Trotter through mentoring and internship programs for young people interested in the culinary arts."
In addition to the airline partnership, several leading restaurants across the country, including Chicago's BellyQ, GT Fish & Oyster, The Lobby at The Peninsula Chicago, Bâtard in New York City, The French Laundry, Parallel 37 at The Ritz Carlton in San Francisco, Per Se and many more will offer Trotter-inspired dishes and menus. This special weekend recognizes Chef Trotter's innovative approach to cuisine by featuring many culinary creations from his legendary cookbooks.
"I'm thrilled to honor Chef Trotter's legacy and be part of such an amazing collaboration," says Bill Kim, Charlie Trotter's alum and Chef/Proprietor of BellyQ. "I think United's participation, along with some of the country's leading restaurants will ensure the most successful Charlie Trotter Day to date."
Chef Charlie Trotter, a James Beard Foundation Humanitarian Award-winning chef, launched hundreds of culinary careers at his Chicago restaurant and inspired chefs across the globe with his innovative approach to cuisine.
Restaurants across the country are invited to participate with a Charlie Trotter-inspired dish, one of his classics, or tasting menu. Proceeds will benefit The Trotter Project, a 501(c)3 nonprofit organization.
For the current list of participating restaurants visit TheTrotterProject.org. Reservations are encouraged. Restaurants interested in participating can sign up online at TheTrotterProject.org/CharlieTrotterDay
For the most up-to-date news, including restaurant offerings and new additions to Charlie Trotter Day, follow @TrotterProject on Twitter, @TheTrotterProject on Instagram, follow Trotter Project on Facebook, and join the conversation with #CharlieTrotterDay.
About The Trotter Project
The Trotter Project seeks to unite those interested in the culinary arts, along with the hospitality and service industries, through a variety of events and programs designed to educate and inspire. The Trotter Project engages youth in mentorship and internship programs that help open doors and inspire minds through the culinary arts. Learn more at http://www.thetrotterproject.org.
About United Airlines
United Airlines and United Express operate more than 4,500 flights a day to 339 airports across five continents. In 2015, United and United Express operated more than 1.5 million flights carrying more than 140 million customers. United is proud to have the world's most comprehensive route network, including U.S. mainland hubs in Chicago, Denver, Houston, Los Angeles, New York/Newark, San Francisco and Washington, D.C. United operates more than 720 mainline aircraft, and this year, the airline anticipates taking delivery of 21 new Boeing aircraft, including 737 NGs, 787s and 777s. The airline is a founding member of Star Alliance, which provides service to 192 countries via 28 member airlines. For more information, visit united.com, follow @United on Twitter or connect on Facebook. The common stock of United's parent, United Continental Holdings, Inc., is traded on the NYSE under the symbol UAL.
###