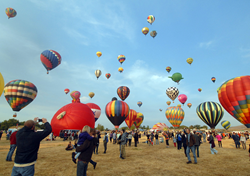 Year-after-year, fans rise early to experience the magic of the event. From Dawn Patrol to Mass Ascension, they enjoy quality time with their loved ones and the memories the event captures for them."
Reno, Nev. (PRWEB) August 10, 2016
The Great Reno Balloon Race (GRBR) is celebrating 35 years of flying high above Reno's skyline this Sept. 9 through Sept. 11. Since its humble beginnings in 1982, the event has grown dramatically in size from just 20 hot-air balloons to a world-renowned event featuring close to 100 hot-air balloons lifting off from Rancho San Rafael Regional Park in Reno, Nev.
"The Great Reno Balloon Race is an annual tradition for so many families across the region," says Executive Director of GRBR Pete Copeland. "Year-after-year, fans rise early to experience the magic of the event. From Dawn Patrol to Mass Ascension, they enjoy quality time with their loved ones and the memories the event captures for them."
Now in its 35th year, GRBR is nothing short of tradition. On the ground, spectators—some clad in pajamas—sit atop blankets or folding chairs gripping hot beverages and gaze into the early morning sky for the ethereal Glow Show that takes place before the sun even peeks above the horizon.
Following that, some hot-air balloons launch for Dawn Patrol, the rest rise later at Mass Ascension, and a select group begins the completion portion of the race, while tens of thousands of visitors look on in awe, patronize vendors and take tethered rides in the balloons that aren't gunning for the win.
Each morning, pilots are briefed about wind speeds and directions at various "ceilings" or elevation measurements. The pilots use this information along with the forecasted weather changes and the local terrain as navigational tools. Skill and consistency are the keys to a victory and a piece of the $11,000 prize purse.
This year spectators can expect to see a variety of special-shaped balloons, including Angry Birds; Jewel, a hummingbird; Pegleg Pete, a pirate parrot; Rio Grande Raider, a pirate ship; SnoBird, a camera carrying penguin; Miss Bell, a replica of the Liberty Bell; Smokey Bear; Sushi; Gus T. Guppy; Wells Fargo's Cent're Stage; Pencil Boy and more.
###
About The Great Reno Balloon Race
The Great Reno Balloon Race (GRBR) is the world's largest free hot-air ballooning event. The event has floated into the hearts and minds of Reno's visitors and locals alike for the past 34 years. With nearly 100 balloons and 120,000+ in attendance each year, the event is a permanent fixture in Reno's Sept. skyline. GRBR is a nonprofit organization offering free admission because of its sponsorship support. For more information, visit renoballoon.com, or find them at Facebook.com/TheGreatRenoBalloonRace or Twitter @RenoBalloonRace.