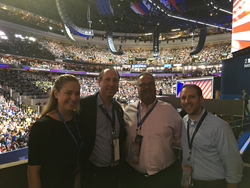 Washington, DC (PRWEB) August 10, 2016
Strauss Media Strategies, Inc. (SMS), the nation's leading provider of strategic radio and television media relations services, announced today that as the Studio 2016 radio and television booking vendor for the 2016 Democratic National Convention in Philadelphia, it oversaw the booking of hundreds of interviews with convention surrogates with local stations in key battleground states and throughout the country.
The Democratic National Convention Committee (DNCC) named Strauss Media Strategies, Inc. as the lead media booking partner for its Studio 2016 Operation at the 2016 Democratic National Convention. SMS was chosen to handle the radio and television booking with media outlets the two weeks leading up to, and during, the Convention.
"In addition to their knowledge of the political industry, the Strauss Media Strategies team brought enthusiasm to our nearly round-the-clock in-house media studio," said Liz Hart, Director of Studio 2016 at the Democratic National Convention Committee. "Studio 2016 is essential to our work because it allows us to localize the convention experience and ensure that elected officials, campaign surrogates, and others that attended the convention here in Philadelphia communicated our message of bringing Americans together to those tuning in from communities across the country. The Strauss team helped us deliver on our mission to engage more Americans than ever before in the most open, accessible, innovative convention in American history."
"I am thrilled that our firm was chosen to support the convention's Studio 2016 booking operation for this year's Democratic National Convention," said Richard Strauss, President of Strauss Radio Strategies, Inc. "It is truly a great honor and we were more than happy to bring our radio and television expertise to help highlight the many talented leaders and voices of the Democratic party."
The Democratic National Convention Committee's Studio 2016 was the cornerstone of an ambitious effort leveraging state-of-the-art technology to make this the most innovative and engaging convention in history. Studio 2016 was housed in the heart of the Wells Fargo Center at the nexus of convention activities convention attendees and provided party leaders, campaign officials, delegates, celebrities, and others a full-service multi-media studio to help speak with their local stations. The Studio was fully operational for approximately 20 hours each day of the convention.
About Strauss Media Strategies, Inc.
Strauss Media Strategies, headquartered in Washington, DC and with offices in New York City and Los Angeles, is celebrating its 20th year in 2016 as the nation's leading public relations, communications, consulting and strategy firm focused exclusively on radio and television outreach services. Offering a diverse range of strategic radio and television services that include radio media tours, television satellite media tours, on-site event coverage, audio news releases, PSAs, radio promotions and advertising, SMS works on behalf of corporations, political campaigns, public relations firms, non-profit groups and government agencies. SMS also delivers bilingual radio and television services for clients reaching out to the Spanish language community.
The Nation's Premier Public Relations, Communications, and Strategy Firm Specializing in Radio & Television
National Press Building, Suite 1163 • 529 14th Street, NW • Washington, DC 20045 • Phone (202) 638-0200 • Fax (202) 638-0400
262 W. 38th Street • Suite 803 • New York, NY 10018 • Phone (212) 302-1234 • Fax (212) 302-1235
info(at)straussmedia(dot)com • http://www.straussmedia.com