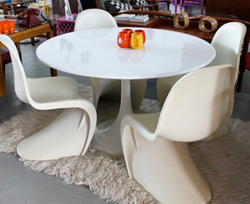 Expanding the EZ discount program to all designers and architects looking for great styles and exposure for themselves and/or firm
Baldwin Park, CA (PRWEB) August 11, 2016
For the week of August 8th, EZmod Furniture has announced some of the most popular items for sale including the Eiffel Tower Arm Chair set of two, the Panton Style S Chair and the Phin Chair set of two. Also, do not forget to sign up for the EZmod Furniture Interior Designer Discount Program which includes discounts, tax free orders and even a possible feature on one of the EZ press releases.
The three chair styles chosen for deals of the week this week is perfect for both indoor and outdoor seating. The durable Eiffel Tower Arm Chair set is made up of tough molded plastic with sturdy high shine chrome legs. The versatility of the chairs will go with just about any interior. Same goes for the Phin Chair set of two. Available in five color varieties, the Phin Chair is extremely easy to clean with just one wipe of a cloth. The chairs are also stackable, which allows even more room for small living spaces. Not to mention the Panton Style S Chair, which is equally versatile, easy to clean and can stand an outdoor environment as well as an indoor one. All deals of the week are 15% off this week only, available on the EZmod website.
EZmod is also recruiting interior designers and architects nationwide to join the EZmod Furniture Interior Designer Discount Program. The program includes 10% off an entire order, no tax, no minimum to buy and a new incentive! When someone signs up for the EZmod discount program, a chance to be featured in an EZmod press release is granted. "Expanding the EZ discount program to all designers and architects looking for great styles and exposure for themselves and/or firm," explained Angelique Valdez, Marketing Specialist at EZmod. All that is needed is a full name, company name, address and phone number, e-mail address and copy of a tax ID and Resale Certificate. If interested, please send all information to sales(at)ezmodfurniture(dot)com.