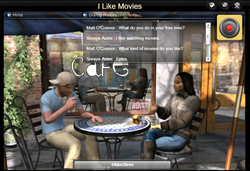 Our partnership with Laureate Education is an example of our successful expansion into educational markets with our Enskill Digital Learning Environment.
Los Angeles (CA) , and Baltimore (MD) (PRWEB) August 10, 2016
Alelo Inc. (Los Angeles) and Laureate International Universities (Baltimore) have signed an agreement to co-develop computer-based modules for learning and assessing spoken English skills based on Alelo's virtual role-play technology and methods. The modules will be initially integrated into Laureate's online English-learning courses offered to its 50,000 lower-level students in Latin America.
Existing online language-learning solutions focus on reading and listening skills without giving learners the opportunity to practice their conversational skills, leaving them poorly prepared to speak and understand English in college or the workplace. As higher education programs increasingly move online, students who struggle with spoken English increasingly risk being left behind.
The modules to be co-developed by Alelo and Laureate will utilize Alelo's virtual role-playing, speech-driven technology that delivers personalized learning interactions with artificially-intelligent, computer-based characters programmed to teach, challenge, encourage and engage in life-like scenarios. Alelo's simulations of real-world conversational tasks and situations provide students with opportunities to practice and explore alternatives in a safe environment, building the confidence that is required for rapid learning and long-term retention.
Gordon Lewis, vice president of Laureate's Language Services division, explains, "Teaching English is a key piece of our global mission. Doing this effectively online is very difficult, so we are always looking for innovative solutions that will let us significantly improve how we teach spoken English to tens of thousands of students worldwide. We chose Alelo to work with us because they offer both a leading-edge approach and a proven track record."
Dr. Lewis Johnson, CEO of Alelo, adds, "The English-learning solutions we'll develop for Laureate will incorporate the latest generation of our language-learning speech and language technology that has been used very successfully by over 200,000 U.S., Australian and NATO forces prior to and during their deployment in 86 countries. Our partnership with Laureate is an example of our successful expansion into educational markets with our new product suite, the Alelo Enskill Digital Learning Environment."
ABOUT ALELO INC.
Alelo creates learning solutions that help people acquire new skills and apply them when it counts, changing the way people communicate. The company has been delivering game-based solutions for learning communication skills using virtual role-play technology since 2003 when it spun out as a DARPA-funded research project from the University of Southern California. Alelo applies its virtual role-play to language and culture learning, and workplace competencies and interpersonal skills. alelo.com
ABOUT LAUREATE EDUCATION, INC.
Laureate Education, Inc. is the largest global network of degree-granting higher education institutions, with more than one million students enrolled across more than 70 institutions in 25 countries at campuses and online. Laureate offers high-quality, career-oriented undergraduate, graduate and specialized degree programs in a wide range of academic disciplines including architecture, business, design, education, engineering, health sciences, medicine, law, and hospitality management. Laureate believes society is best served when its students, professors and employees use their collective skills and experiences to create positive and enduring change. This commitment is expressed through the company's philosophy of being 'Here for Good' and is represented by its status as a certified B Corporation® and conversion in 2015 to a U.S. Public Benefit Corporation, a new class of corporation committed to creating a positive impact on society. laureate.net