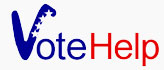 Our mission is to provide Americans with objective, quickly accessible information on how their own views compare to where the Presidential candidates stand on the issues
Los Angeles, CA (PRWEB) August 10, 2016
Introducing VoteHelp (http://www.votehelp.org/) – a nonpartisan candidate calculator that helps voters choose which presidential candidate to support based on the issues. The VoteHelp quiz, which takes an average of 5 minutes to complete, was taken over 750,000 times during 2008 & 2012 elections, and has recently been updated for 2016 to include issue positions for the current leading presidential candidates, Hillary Clinton and Donald Trump, on today's most relevant issues.
At the unbiased VoteHelp.org website, voters select where they stand on key issues and rate the importance of each issue. VoteHelp then matches voters to candidates. The timesaving features allow voters to size up presidential candidates quickly and help make an informed decision. Research shows that lack of information is one of the largest barriers for voter turnout, especially among the young, who have been the prime users of VoteHelp's candidate calculator in 2008 and 2012. VoteHelp eliminates the need for citizens to slog through speeches, debates, candidates' websites, interest group ratings and voting records to find candidates who best represent them.
The website was recently updated for 2016 to allow comparisons with Republican Donald Trump and Democrat Hillary Clinton. Key 2016 issues include immigration policy, defense spending, civil liberties, government spending, corporate regulation, taxation of the wealthy, Medicare reform, Israel policy, education spending, gay marriage, abortion, the environment and trade.
"Our mission is to provide Americans with objective, quickly accessible information on how their own views compare to where the Presidential candidates stand on the issues," said Ravi Iyer, PhD, a VoteHelp cofounder and data scientist at Ranker. Per Iyer, "Each of us bases our vote on different criteria, so we designed Votehelp.org to allow users to personally weight the importance of each issue."
In addition to a list of best candidate matches, users can compare their views with candidate views on an issue by issue basis using VoteHelp's innovative candidate comparison graph. VoteHelp.org also has an optional "personality module" for users who want to add their views of the candidate's personalities to their calculation.
"As a recent father of twins and CEO of Ranker.com, I understand the value of people's time," said Clark Benson, VoteHelp cofounder, "We created the site out of respect for the fact that not every person has the time to research every candidates' positions on each issue."
Please contact Ravi Iyer at 323-687-0764 for more information on VoteHelp.