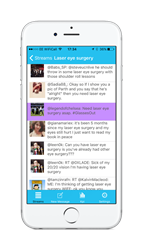 CAPTIV8® Social reduces the time and budget eye-care practitioners need to invest in marketing their clinics.
Coventry, West Midlands (PRWEB UK) 16 August 2016
Engaging patients with useful information is essential for increasing revenue through digital marketing (Varini & Sirsi, 2012). Social media can boost awareness, generate more high-value appointments (Barwise and Meehan, 2016) and increase the likelihood of positive referrals (Smith et al., 2012). While most healthcare practitioners engage with new digital technologies, implementing digital marketing strategies is time-consuming (Patel, 2012).
"These insights drove us to focus development on solutions for two key unmet needs. Firstly, to build a managed social media service that finds interesting news stories, matches them with engaging 3D patient education animations and then posts these to the clinic's Facebook and/or Twitter page. Secondly, to develop an app that searches Twitter in real-time to find tweets containing relevant keywords around the clinic location. The CAPTIV8® Social app provides push notifications to staff so that they can respond efficiently. Replies can include links to beautiful 3D patient education animations," said Dr Trusit Dave, Optimed Ltd. CEO.
CAPTIV8® Social "listens" and finds potential patients in the vicinity of the clinic. A reply can be sent directly from the app. The average response generates a click-through rate of 130%.
The newly launched mobile app offers a comprehensive and effective marketing solution. CAPTIV8® Social shares relevant news stories, selected by Optimed in-house marketing experts, on the clinic's Twitter account and Facebook page.
CAPTIV8® Social can help to:
1. Build clinic brand - over 70 authenticated Facebook and Twitter updates per month, posted on clinic's social media accounts. 
2. Attract more patients on the go - CAPTIV8® Social users typically find 25 qualified leads per month they can engage with.
3. Reduce marketing cost - over 100 animations available to engage potential and existing patients. These can generate over 500 views per month.
"Improved return on investment was our key aim for CAPTIV8® Social," said Dr Dave. "This innovative platform reduces the time and budget eye-care practitioners need to invest in marketing their clinics and provides easy to understand metrics to track results."
CAPTIV8® Social is designed to identify potential patients and provide eye care specific content to share with them. It can help practitioners find patients in real-time, generate appointments using engaging content and achieve continued success through powerful clinic marketing. Price starts at £41.67/month per clinic (approx. 62.50 EUR or 66.67 USD), making the app a powerful marketing tool that costs less throughout a year than a single newspaper advert.
For more information on CAPTIV8® Social, visit
http://www.optimed.co.uk/captiv8-social-2/
CAPTIV8® Social is available as an add-on to CAPTIV8® or CAPTIV8®+ or as a free-standing product. It is powered by Optimed Ltd, the developers of CAPTIV8®, the most innovative platform for patient education and clinic marketing, designed specifically for the eye care industry. Trusted by thousands of people around the world, the CAPTIV8® brands go beyond animation to support you in achieving continued success.
From generating more appointments, to bridging the patient understanding gap, to improving health outcomes, to ensuring patient satisfaction, the CAPTIV8® platform is designed to help improve your bottom line.
Our platforms are the only tool you will need to save time on patient education and clinic marketing, so that you can remain focused on diagnosis and treatment. http://www.optimed.co.uk