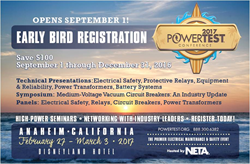 PowerTest 2017 offers five full days of learning.
Portage, Michigan (PRWEB) August 12, 2016
Electrical power systems engineers and technicians will find a broad range of education and training needs addressed in PowerTest 2017's impressive Monday line-up, packed with 27 unique electrical maintenance and safety presentations. This premier conference for electrical power system professionals is sponsored by NETA, the InterNational Electrical Testing Association.
Monday, February 27, is the official kickoff to PowerTest 2017, NETA's popular annual conference and exhibition. Scheduled this year at the Disneyland Hotel, Anaheim, California, the event includes five full days of high-powered learning, from February 27 - March 3, 2017. Here is a sneak peek at two highly anticipated sessions.

Protective Relays — End-To-End Testing Methods Compared, presented by Christopher Pritchard and Will Knapek, OMICRON electronics Corp. USA
End-to-end or distributed testing is a well-accepted method for line protection testing. The same technique can also be applied for bus protection or distribution schemes. While most technicians currently implement a certain method of distributed testing, many other available methods can save a significant amount of time. This paper presents an overview of different test methods and a guide to choosing the right tool for the next job.

Power Transformers — Why to Get Excited about Excitation Current Tests, presented by Keith Hill, Doble Engineering Company
It is important to routinely conduct excitation current tests when performing power factor tests on a transformer. The different test procedures for various windings will be covered in this session and a case study will be reviewed in which excitation current tests indicated a problem — while other tests such as power factor, low voltage TTR, and winding resistance — did not.
Attending PowerTest 2017
PowerTest 2107 registration or a social pass is required to attend all conference events and networking activities. Discounts are available for NETA Accredited Companies and NETA Alliance subscribers, and for attending multiple seminars.
Early Bird registration for PowerTest 2017 begins September 1, 2016, at http://www.powertest.org. Please call 888.300.6382 (NETA) for more information.
ABOUT NETA
NETA is an ANSI Accredited standards developing organization that creates and maintains standards on electrical testing for electrical power equipment and systems. NETA is an association of leading electrical testing companies comprised of visionaries committed to advancing the industry standards for power system installation and maintenance to ensure the highest level of reliability and safety.
http://www.netaworld.org