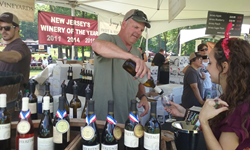 (PRWEB) August 10, 2016
This Labor Day weekend take a break from work by sipping wine, listening to great music and enjoying the company of family and friends when the Garden State Wine Growers Association (GSWGA) hosts their Wine & Music Experience at the Horse Park of NJ on Saturday and Sunday, Sept 3-4 from noon to 5 pm (rain date Monday).
Advance discounted tickets are now on sale for $20 + fee on the http://www.newjerseywines.com website or by clicking here. This price will only stay in effect until August 14. Then, the advance price will be $25 + fee through August 28 and then $30 + fee the week of the event and on-site.
After years of holding its Labor Day weekend event at Allaire State Park, the GSWGA has moved to the beautiful and spacious Horse Park of NJ in Allentown on Route 524 (exit 11 on I95) in order to provide customers with an expanded music and wine experience paired with award-winning New Jersey wines. The event will feature two bandstands allowing for non-stop musical entertainment that will be headlined Saturday on the Main Stage by the famed Roomful of Blues Band, the American blues and swing revival band with a recording career spanning over 40 years. Long Gone Daddies will perform on the Local Stage and Burning Bridget Cleary will open on the Main Stage. Sunday's musical entertainment will be headlined by The Slambovian Circus of Dreams on the Main Stage as well as Rogues on the Run performing on the Local Stage and Hot Jazz Jumpers opening on the Main Stage.
Seventeen leading NJ wineries will be sampling at the event. Participating wineries are:
Bellview Winery,Cava Winery,Chestnut Run Farm,Coda Rossa Winery, DiMatteo Vineyards, Four Sisters Winery, Heritage Vineyards, Hopewell Valley Vineyards, Monroeville Winery, Old York Cellars,Plagido's Winery, Sharrott Winery,Tomasello Winery,Unionville Vineyard, Valenzano Winery, Villari Vineyards and Wagonhouse Winery.
A percentage of all ticket sales will benefit the work of the Standardbred Retirement Foundation the official charity of the Wine & Music Experience. The Foundation is a non-profit, tax-exempt organization created to care for, rehabilitate, and secure lifetime adoption of non-competitive racehorses to ensure their proper care with follow-up, and combine the needs of youth at risk with these horses in therapeutic equine programs to benefit both. The Foundation will have an information booth at the event where festival goers can learn more of the organization's mission and works.
The GSWGA is also offering a special VIP opportunity for the Wine & Music Experience. Those customers purchasing one of the new GSWGA membership cards will receive special VIP treatment at the Wine & Music Experience. GSWGA card holders will receive the following:

VIP parking
VIP express entry through the gate
Guaranteed seats inside a GSWGA-membership card-only tent located close to the main stage
Special Wine Seminars inside the GSWGA membership tent
Tastings of reserved wines not available at winery tents and meet the winemaker opportunities
Light fare
Wine deliveries brought right to your vehicle
Card is good for admission to multiple days of all GSWGA fall festivals and can be used at events next year.
The price for the card is $100. Buy two and get 25% off the second card. Cards can be purchased on http://www.newjerseywines.com. In addition to the festival package, cardholders can take advantage of special offers available only to GSWGA card members in August and other months by NJ wineries. All cards are numbered and members will need to show their card for admission to festival events and special winery offers.
Following is the official band line up for each day of the Wine & Music Experience.
Band Line up for Saturday, Sept. 3
12:00 - 1:00 pm - Long Gone Daddies - Local Stage
1:00-2:00 pm. - Burning Bridget Cleary - Main Stage
2:00-3:00 pm - Long Gone Daddies - Local Stage
3:00 - 4:30 p.m. - Roomful of Blues - Main Stage
Sunday, Sept. 4
12:00 - 1:00 pm - Rogues on the Run - Local Stage
1:00 - 2:00 pm - Hot Jazz Jumpers
2:00 - 3:00 pm - Rogues on the Run - Local stage
3:00 - 4:30 pm - The Slambovian Circus of Dreams - Main Stage