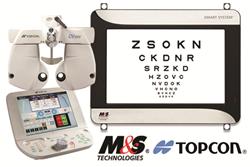 This new modular interface... really brings computerized refraction systems to a new level.
Niles, IL (PRWEB) August 31, 2016
M&S Technologies, the first name in computerized vision testing systems, is unveiling a new, dynamic interface with the Topcon CV-5000S Computerized Refraction System.
The interface will be sold as modules with various tests and functions from the Smart System 20/20 software in each module. A fully-loaded module of the entire Smart System 20/20 will also be available, adding considerable adaptability compared to other computerized refraction systems. Users will be able to access the Smart System vision tests right from the KB-50S One Dial Controller.
The Smart System 20/20 is a high-quality computerized visual acuity testing system with features such as Full Optotype Randomization, Contrast Sensitivity Testing, ColorCheck Color Screening, Stereopsis Testing, Auto DVD Play, Fixation Disparity Testing, Low Vision Testing, and more. The Topcon CV-5000S provides a complete 21-point refraction and features the KB-50S One Dial Controller with a 10.4" color touch-screen display. The fast lens rotation provides comfort for both user and patient.
M&S Technologies will be demonstrating three of the main modules (Complete Smart System, Pediatric, and Refractive) in Booth 11039 at Vision Expo West 2016, held in Las Vegas from September 15-17.
"This new modular interface between the M&S Smart System and the Topcon CV-5000 really brings computerized refraction systems to a new level. Practices will gain so much flexibility in the specific vision charts and tests that can run on their refraction system. "
Joe Marino, President & CEO
About M&S Technologies:
Founded in 1990, M&S Technologies is a software company specializing in visual testing systems and dedicated to developing the very best products for eye-care professionals, optometry schools and universities, and products used in clinical trials. To date, over 26,000 systems are in use across 39 countries with a growing network that includes 25 distributors and several strategic industry alliances. Superior service, industry-leading technology and products that define the cutting edge have been the hallmarks of M&S for over 25 years.
For more information, please contact:
Carolyn Crabb
Marketing Coordinator
M&S Technologies, Inc.
847-763-0500
ccrabb(at)mstech-eyes(dot)com
#####