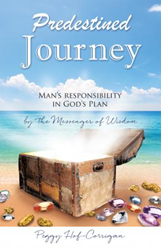 ... this book offers refreshing honesty about the facts in God's Word
Pueblo, CO (PRWEB) August 12, 2016
What if people acknowledged their natural limitations against God's limitless and providential power? What would it look like to give up one's own desires and wishes for the sake of the Truth that is the Word of God? Peggy Hof-Corrigan's captivating new book, Predestined Journey - Man's Responsibility In God's Plan, ($16.99, paperback, 9781498480147; $8.99, e-book, 9781498480154) looks to answer those essential questions and more, doing so specifically through the role of abortion in today's culture, and how it reveals a person falling short of God's intent based on His Word.
Using past and present experiences, the author invites readers to go on a life-changing journey of discovery and revelation – opening mysteries hidden from the wise and prudent. Holding up the principles in God's Word to one's daily decisions, this book shows that all Christians must first un-learn all faulty and deceitful doctrines and dogmas of the past before one can see the order and intention with which the Word of God was written. Starting from before time began and ending with the eternal destiny for all overcomers, this powerful book offers a refreshing and revelatory vision of the story of God and man – as it had always intended to be understood.
"As a Christian commentary on the obstacles we face in modern life to rely on God and His Will for our lives, this book offers refreshing honesty about the facts in God's Word," states the author. "Who we were in Eternity Past, who we have chosen to be in Eternity Present and the consequences of those choices in Eternity Future."
Peggy Hof-Corrigan married her husband Patrick in Entebbe, Uganda Africa in 2007. Their intense love for Jesus Christ and their school experience at Charis Bible College was the common link in their marriage made in Heaven. After returning from Africa in 2008, God began to blend them together. Their relationship began as oil and water; however the love of Jesus soon found the weak cords within each of them and replaced them with His cords of love, trust, and strength. Today those cords of three are binding them to His will, His plans, and His purpose. Peggy's desire to write this book began in 2000. After many attempts, the hope was deferred. Years passed. Then in early November 2015, Patrick and Peggy were on their way home from a shopping trip when Peggy heard the Lord speak the name, "Planned Parenthood," and knew that was the referencing point for their book. Confirmation came the following week, when Planned Parenthood, in Colorado Springs, was the site of a horrific shooting. It was a Word from the Lord – to the Messenger of Wisdom – to light the fire and sound the alarm. It was time to decide, acknowledge, and take responsibility for the choices made.
Between Peggy and Patrick, they have five living children, eleven grandchildren, and four great-grandchildren. Ministry in the Word is their passion. Peggy holds a Bachelor's degree in Biblical Studies and is Founder and President of the Bride of Christ Ministries Establishing and teaching Discipleship/ Evangelism groups throughout Uganda and Rwanda Africa. Peggy loves to teach from her treasure chest of wisdom and knowledge, which has only been tapped. She encourages others to search the Scriptures for the answer to all questions.
Xulon Press, a division of Salem Media Group, is the world's largest Christian self-publisher, with more than 15,000 titles published to date. Retailers may order Predestined Journey - Man's Responsibility In God's Plan through Ingram Book Company and/or Spring Arbor Book Distributors. The book is available online through xulonpress.com/bookstore, amazon.com, and barnesandnoble.com.
Media Contact: Peggy Hof-Corrigan
Email: peggyhof1945(at)gmail(dot)com