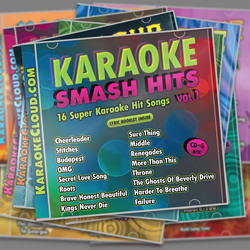 "...now is the perfect time to introduce a fresh line of physical karaoke product into the market..." - Joe Vangieri, CEO, DTE
Knoxville, TN (PRWEB) August 11, 2016
In an age where most record labels are shying away from physical products, DigiTrax Entertainment, North America's largest producer of karaoke music, is embracing it with open arms. DTE has just signed a distribution deal with BFD/SONY RED Distribution that will place their top-performing professional karaoke songs on discs in big-box stores and specialty retailers throughout the US.
"We've analyzed the competitive landscape extensively," said Joseph Vangieri, CEO of DTE, "and we know that now is the perfect time to introduce a fresh line of physical karaoke product into the market, and direct to consumers."
As the host of the Annual Karaoke Summit, DTE's position in the professional karaoke industry is enviable, and with their penetration of more than 2,500 professional karaoke hosts through the increasingly popular Karaoke Cloud Pro platform, they are uniquely poised to survey the current state of the market.
And DTE is far from a complete neophyte in the consumer trenches – their partnership with Activision's "The Voice" karaoke game was a broad success. DTE also enjoys a spot atop all other traditional labels at VEVO, YouTube's official music channel, with more than 630,000 subscribers and more than 173 million views.
Drawing from a deep and broad catalog that has been in continuous production since the mid 1970's, DTE's content is composed almost exclusively of top-charting hits. While one might be forgiven for thinking this would make choosing the songs to include on physical discs a simple task, Vangieri indicated otherwise.
"We spilled a lot of marketing sweat in designing every aspect of these discs," Vangieri said. "While it wasn't necessary to completely re-invent the wheel, we definitely identified and targeted a multitude of opportunities in song selection and placement, packaging and other details, all of which add up to increased potential sales."
Due in stores in time for the holiday season, DTE will initially concentrate on the titles it feels have the most immediate sales impact, as they build out a complete line of consumer offerings to multiple demographics.
"Having previously built on our success as an exclusively digital label in the professional market," Vangieri said with a smile, "right now for us, it's back to the future."