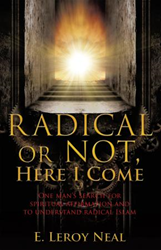 I hope readers gain an awareness of the power of the Holy Spirit in their own transformation and to understand true, fundamental Islam
Colorado Springs, CO (PRWEB) August 12, 2016
E. Leroy Neal's new book, Radical Or Not, Here I Come, ($15.99, paperback, 9781498477642; $7.99, e-book, 9781498477659) explores his theory that fundamental Islam and democracy are on a collision course but political correctness and naiveté have smothered the American public's appreciation of this threat. He explains to readers his belief that Christians as well as politicians are woefully uninformed and unprepared for this explosive reality. This book thoroughly explores basic precepts of Islam and Christianity while trying to explain his theory. In this refreshing presentation, the author and his fictitious friend discuss comparisons of the two religions over time, revealing personal strengths and weaknesses in their own lives. A surprise ending dramatizes factors that according to the author, has lead many Americans to become radicalized, violent Muslims.
According to E. Leroy Neal, recent events in Paris, Belgium, Turkey and Florida indicate that the public is simply uninformed and unprepared for the violent reality of true Islam. Islam's goal is a worldwide caliphate, at any cost and by any means. He believes that Americans and the rest of the world as well, simply do not comprehend this threat and have been brainwashed into believing the politically correct position that Islam is a peaceful religion and that radicals such as ISIS have kidnapped Islam. He concludes his opinion that nothing could be further from the truth or more dangerous.
"I hope readers gain an awareness of the power of the Holy Spirit in their own transformation and to understand true, fundamental Islam," states the author. "Within my book, I examine the idea that there is no such thing as a moderate Muslim. I believe that if they say they are moderate, they are either lying or they do not understand the foundation of their own religion and definitely are not true, fundamental Muslims!"
Here's what others are saying about this thought-provoking book:
"As an Islamic scholar and one who is deeply involved in Christian ministry and global outreach, this book is very helpful to many in several ways. It gives you an excellent understanding of radicalism in general and Islamic radicalism specifically. It is a very readable introduction to Islam without all the details. It is on the cutting edge and I recommend it to everyone. The idea of the book is incredible – perfect for busy people. I love Mr. Neal's unique approach and hope he writes more books."
– Dr. George Naeem Guirguis, Biblical Orthodox Lutheran Mission
"The title of the book intrigued me so much, I had to read it. What a fascinating life journey, one of doubt, curiosity, trust, loyalty and unconditional love and friendship. I couldn't lay it down until I knew how it ended. Boy was I shocked!" – Martha Adams, Designer, The Arthur Valdes Company
"Leroy does a masterful job combining his true story with that of his fictitious high school friend. In the process he speaks truth about the differences between followers of Christ and those of Islam. This is a must read for anyone who loves a good story with a meaningful twist." – Rev. Douglas P. Brauner, Senior Pastor, Holy Cross Lutheran Church, Colorado Springs, Colorado
According to author, E. Leroy Neal, he has no expertise and no credentials to make a convincing case for any of the positions in his book. He simply had some puzzling questions and set out to answer them for himself. In return, he only asks the reader to do the same. He asks everyone to read the material he has and then make up his or her own mind as to the efficacy of his findings.
Xulon Press, a division of Salem Media Group, is the world's largest Christian self-publisher, with more than 15,000 titles published to date. Retailers may order Radical Or Not, Here I Come through Ingram Book Company and/or Spring Arbor Book Distributors. The book is available online through xulonpress.com/bookstore, amazon.com, and barnesandnoble.com.
Media Contact: E. Leroy Neal
Email: leroy.neal(at)biola(dot)edu