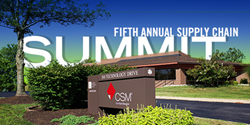 Malvern, PA (PRWEB) August 11, 2016
CSM, a leading provider of clinical trial supply services, announces that it will speak on a CSM sponsored-panel session at the Delaware Bio and Pennsylvania Bio Supply Chain Summit. This event will take place on Wednesday, September 21st, 2016, beginning at the Desmond Hotel in Malvern, PA. Afterwards, CSM will host summit attendees at its Malvern facility.
The 2016 Supply Chain Summit is an opportunity for an anticipated 150 attendees to engage in high-value professional development and build quality connections with others who also face similar supply chain challenges, from navigating in the global regulatory environment to protecting sensitive products.
The Supply Chain Summit will feature several successful subject matter experts who will share industry insights. Executives and specialists will discuss how to create and maintain a supply chain fit for today's global markets. Bob Albanese, Senior Vice President, Strategic Development of CSM will be a panel member for the CSM sponsored session, "Direct-to-Patient Shipping Strategies in Clinical Trials." Organizations represented at the summit will include other supply chain leaders, such as UPS, Rx-360, VWR International, SCM Consulting LLC, Arkieva, and Almac Group.
Following the speaking engagement, CSM will welcome summit attendees for an informational tour and social hour at its new cGMP facility in the Great Valley Corporate Center of Malvern, PA. At this facility, CSM offers a multitude of services including packaging and labeling, temperature-controlled storage, global distribution, blistering and carding, and high speed bottling.
Keynote Address: Meeting Patient Needs by Maintaining a State of Continuous Quality with End-to-End Supply Chain Transparency & Visibility
Panel Topics:

Enabling Supply Chain Security, Earth to Patient
Demand Planning in the Bioscience & Pharmaceutical Industries
Direct-to-Patient Shipping Strategies in Clinical Trials
Date: Wednesday, September 21, 2016
Time: 8:00AM to 4:30PM
Where:

The Desmond Hotel & Conference Center, 1 Liberty Boulevard, Malvern, PA 19355
Malvern Facility, 300 Technology Drive, Malvern, PA 19355
About CSM
CSM provides packaging, storage, and distribution services with quality-driven processes to enhance biotechnology and pharmaceutical clinical trials worldwide. The company has continued to evolve with its blend of unique and traditional clinical trial services that improve efficiency and accuracy.
CSM is the innovator of On-Demand Packaging and Labeling services, an industry breakthrough in which clinical supplies are made specifically for, and immediately prior to, each shipment. Some of CSM's other core services include: traditional packaging and labeling, cold chain logistics, controlled drug services, returns and reconciliation, clinical label printing, and global distribution. For more information, visit http://www.csmondemand.com.