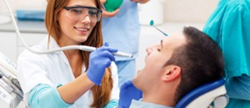 Ongoing research which links oral health and general health indicate a significant increase in the demand for preventive dental services. --- Dr. Kimberly Rassau
PITTSBURGH (PRWEB) August 11, 2016
Career Training Academy (CTA) has announced plans to expand its Dental Assistant program and will begin course offerings in October 2016 at its newly remodeled campus in North Hills.
A key distinction of CTA's Dental Assistant program is that it is one of few schools in the Commonwealth of Pennsylvania certified by the Department of Education as an Expanded Function Dental Assistant (EFDA)-certified program. Students are eligible after graduation to sit for the state exam. Also known as oral healthcare workers, professionals with an expanded functions dental assistant certification can enjoy increased pay, recognition and responsibilities.
Students who graduate from an EFDA-certified program are expected to have expanded functions enabling them to become highly trained dental auxiliaries ready for the workplace. For example, state regulations allow EFDA-qualified dental assistants to perform coronal polishing, topical fluoride application, place and carve amalgam restorations, place composite restorations, place sealants and place rubber dams, with all procedures being performed under the direct supervision of a licensed dentist.
Learning takes place in a state-of-the-art training lab in which students gain confidence by performing dental procedures under the personalized guidance of instructors using the instruments and materials relevant to modern dentistry.
Students engage in a rigorous four-day per week course schedule including hands-on training, practical experience and industry support. Classes are interactive and led by experienced dental professionals who guide students in acquiring skills including dental anatomy and terminology, diet and nutrition, oral pathology, microbiology, patient psychology, CPR, office management, preventative dentistry, dental law and ethics, dental pharmacology and radiography.
U.S. Bureau of Labor Statistics suggests that employment of dental assistants is projected to grow 18 percent through 2024, much faster than the average for all occupations.
"Ongoing research which links oral health and general health indicate a significant increase in the demand for preventive dental services," said Dr. Kimberly Rassau, CTA President and CEO and Acting Dean of Academic Affairs. "Our program is designed to prepare graduates with practical, technical skills as well as business process knowledge, communication and other soft skills for the mutual success of our graduates and our network of employers."
Christina Discello is Program Director for CTA's Dental Assistant program. Since 2001, Discello has overseen the EFDA accreditation of the programs as well as certifications and memberships with the Registered Dental Assistant Association (RDA), Certified Dental Assistant Association (CDA) and the American Dental Assistants Association (ADAA). She has managed the recent renovation of three brand new dental laboratories at each of the school's three campuses.
Career Training Academy's North Hills Campus is located at 1014 West View Park Drive, Pittsburgh, PA 15229.
ABOUT CAREER TRAINING ACADEMY
Founded in 1972, Career Training Academy offers professional career training and advancement in the medical, dental and massage therapy fields. Career Training Academy's main campus is located in Lower Burrell, PA with additional campuses in Monroeville and West View. The mission of Career Training Academy is to provide an educational environment that enhances learning and personal enrichment with unique and traditional methods, new techniques to learning, and a curriculum designed to meet career goals and industry needs. CTA maintains an active student community service program to foster character and self-esteem and is dedicated to the education and advancement of each individual's career goals. CTA is accredited by the Accrediting Commission of Career Schools and Colleges (ACCSC) and licensed by the State Board of Private Licensed Schools, Pennsylvania Department of Education.