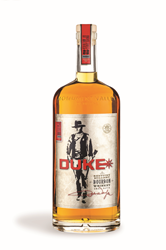 "We have a great story to tell with The Duke Bourbon and as Blackheath's route-to-market has refocused on account-level brand building, I feel very confident about rekindling this relationship," said Chris Radomski, President of Monument Valley Distillers
Stamford, CT (PRWEB) August 11, 2016
Blackheath Beverage Group, LLC ("BBG") is excited to announce that, effective immediately, it will serve as the national sales force for The Duke Kentucky Straight Bourbon ("The Duke"). Blackheath has a strong history with The Duke and has recently made specific internal adjustments that will increase the total value of their strategic alignment.
Michael Rieck took the reigns at Blackheath Beverage Group and instituted significant changes to create a more efficient and effective route-to-market for its clients. During that same time period, The Duke's ownership has stuck to their principals, made key internal hires and renewed a dedication to more targeted and unique marketing platforms befitting of The Duke.
Blackheath's marketing department, led by Tom Michaelsen, and the Duke team are currently working to flesh out a series of marketing concepts that focus on the thriving Bourbon trend. The Duke Masters platform, for example, will focus on the culinary and mixology applications for Bourbon, as an item for food pairing, but also as an ingredient in both cocktails and in actual cuisine.
Named for American icon John Wayne – the larger-than-life film star affectionately known as "The Duke" – The Duke Kentucky Straight Bourbon is specially formulated based on John Wayne's personal tastes learned when his youngest son, Ethan Wayne, discovered a private collection of his father's liquor, letters, and tasting notes dating back to the early 1960s. Ethan Wayne founded Monument Valley Distillers, parent company to Duke Spirits, makers of The Duke Bourbon, with Jayson Woodbridge and President Chris Radomski, proprietors of 12-time, 100-point awarded wine, Hundred Acre. The company launched the Bourbon brand in 2014.
"Our goal with the Duke was to make a Bourbon that embodies the spirit, strength and richness my father personified while realizing his unfulfilled dream of distilling fine spirits," said Wayne.
Founded in 2012, Blackheath Beverage Group is an independently owned sales and marketing solution for small to mid-sized brands in the United States. Led by Partner and CEO, Michael Rieck, BBG offers a shared sales infrastructure for a portfolio of synergistic brands.
"Since our last engagement, both of our organizations have undergone some changes that have led us back to each other. And we are absolutely thrilled to have The Duke back in our stable, as it were," said Rieck. "The product is exceptional, and as a lifelong fan of John Wayne's, I may be a little biased, but I just really love the story behind it too." Rieck continued, "due to success in other categories, their team has an impressive reputation in the industry. The kind of top-line relationships they bring to the table complement our street-focused sales force very nicely."
Chris Radomski, Founder and CEO of Duke Spirits said, "Blackheath has always had a compelling model. Its leadership and sales infrastructure have continued to improve and both of our organizations are ready for this new beginning. We have a great story to tell with The Duke Bourbon and as Blackheath's route-to-market has refocused on account-level brand building, I feel very confident about rekindling this relationship."
Michael Farbenblum, BBG's Founder and COO, responded, "Michael Rieck, Tom Michaelsen, and our regional Vice Presidents, have worked diligently over the past months to reshape our organization to best suit the specific needs of craft and emerging brands. While there is no single formula for all brands, we strive to create a contoured and balanced approach for each of our clients. This allows our partnerships to be efficient and to react quickly to a dynamic marketplace. I think the revived relationship with The Duke reflects these realignments."
———
Blackheath Beverage Group
Founded in 2012, Blackheath Beverage Group leads the U.S. liquor industry as an independently owned national sales and marketing platform. Blackheath is designed to provide brands with an unbiased infrastructure, placing great emphasis on delivering a superior level of distribution support and sales execution for a portfolio of non-proprietary brands. Blackheath continues to raise the bar by providing entrepreneurs and brand owners with this highly efficient route-to-market, offering the bandwidth, resources, and leverage typically only found within larger proprietary and margin driven suppliers. http://www.bhbeverage.com
Monument Valley Distillers
Monument Valley Distillers is an artisan distiller crafting small batches of superior bourbon, whiskey and brandy. Monument Valley Distillers was born in Calistoga, California, many years ago, over an epic dinner featuring wine, shared memories and laughter between founders Ethan Wayne, son of John Wayne, and renowned vintners of Hundred Acre Wines, Jayson Woodbridge and Chris Radomski. Creator of DUKE Spirits, Monument Valley Distillers is committed to preserving the legacy of John Wayne by creating authentic products bearing his name. For more information visit http://www.dukespirits.com. Please enjoy all Monument Valley Distillers products responsibly.