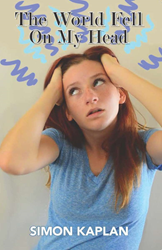 St. Louis, MO (PRWEB) August 26, 2016
Jan's world feels heavy. Even after the arrival of a new friend, being cast in a school play with her crush Derek (who might be crushing back) fails to make her feel like she belongs. Her archenemy, Stephanie is still around, more determined than ever to mess with her.
The World Fell On My Head was written in the Judy Blume tradition, where issues like suicide, self harm, poor self image, as well as the more mundane trials of being a teenager are dealt with poignancy, seriousness and humor. This is a book that will have your teenager laugh and cry as they will easily relate to the main character.
The paperback version is available from Mira Digital Publishing: https://mira-booksmart.myshopify.com/products/the-world-fell-on-my-head
The ebook is available on Amazon:
https://www.amazon.com/World-Fell-My-Head-ebook/dp/B01JVSYZQG/ref=sr_1_1?ie=UTF8&qid=1470768838&sr=8-1&keywords=the+world+fell+on+my+head#navbar
Or at Barnes and Noble: http://www.barnesandnoble.com/w/the-world-fell-on-my-head-simon-kaplan/1124277967?ean=2940157063238
A reading for The World Fell On My Head will be given at Half Price Books in University City in mid November. Check their website for more information.
Simon Kaplan is a writer, actor, theatre director, and playwright. He has worked with youth in theatre his whole life having directed over fifty plays at elementary, middle, and high schools. Additionally, he has toured professionally with the children's theatre company, the Traveling Lantern. Two of his plays were also professionally produced: The Plant's Taking Over (with Ira Levin) and I Got A Haggadah. Mr. Kaplan currently lives in his hometown of Saint Louis. The World Fell On My Head is his debut novel. Find out more at https://www.facebook.com/SimonKaplanAuthorPage/.