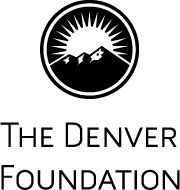 Denver, CO (PRWEB) August 18, 2016
The Denver Foundation's efforts to deepen, leverage, and grow philanthropy among communities of color has received a significant boost, thanks to a $200,000 grant from the W.K. Kellogg Foundation (WKKF).
The award from the W.K. Kellogg Foundation (WKKF) will be utilized over three years and will support Elevating Philanthropy in Communities of Color (EPIC), a focus of The Denver Foundation, which aims to broaden the definition of what it means to be a philanthropist and to acknowledge the long history of philanthropic contributions of people of color, whose gifts include time, talent, treasure, and testimony. WKKF previously supported EPIC with a gift of $300,000 in 2014, bringing their total investment to half a million dollars.
The award was announced during Black Philanthropy Month celebration at the Blair-Caldwell African American Research Library on Tuesday, August 9. August is Black Philanthropy Month.
"With this continued support from the W.K. Kellogg Foundation, EPIC will continue to engage donors of color by building relationship and philanthropic capacity through historical and culturally relevant giving models. This work is a critical part of the Foundation's DNA as we work hand-and-hand with community to impact positive community change," says LaDawn Sullivan, The Denver Foundation's Director of Community Leadership.
The Denver Foundation is a recognized leader in the movement to catalyze philanthropy to advance racial, ethnic, and economic equity. The Foundation believes that community change is especially powerful when the people most impacted by issues lead in identifying and implementing solutions. The pervasive disparities in education, health care, affordable housing, and employment are among the many issues that the Foundation addresses through funding initiatives, community partnerships, and connections with generous donors. These disparities disproportionately affect people of color.
The Denver Foundation's core commitment to equity is evident in a number of initiatives, including:
Strengthening Neighborhoods, which supports resident engagement and resident leadership to develop community asset-based solutions; the Inclusiveness Project, which provides resources to help nonprofit organizations become more racially inclusive; Giving Circles for people of color; Executive Directors of Color, a program to build the individual and organizational capacity of nonprofit leaders of color; and Nonprofit Internship Program, a paid summer intern program designed to expose undergraduate students to professional and philanthropic opportunities in the nonprofit sector.
About Black Philanthropy Month
Black Philanthropy Month is a chance to reflect on the legacy and impact of African American giving across the country and in Colorado. In Metro Denver, families, faith-based congregations, organizations, and generous individuals have kept giving traditions alive for decades. Denver Delta Eta Boule, which has roots that date to 1921, has distributed more than $300,000 in scholarships for rising African American men since 1998. The Denver (CO) Chapter of The Links, Incorporated, an African American women's organization formed in 1952, has contributed more than $1 million and over 325,000 hours of community service to organizations that work to enrich the lives of others. Many more African American sororities, fraternities, organizations, and groups contribute countless hours, expertise and financial contributions for the betterment of the Greater Metro Denver community.
Photographs of African American philanthropists from across Metro Denver will once again be on display at the Blair-Caldwell African American Research Library through August 31. The photographs were part "Soul of Philanthropy," an exhibition presented by The Denver Foundation in 2015.
About The Denver Foundation
The Denver Foundation is a community foundation that inspires people and mobilizes resources to improve life in Metro Denver. In 2015, the Foundation and its donors awarded more than $978 million in grants. The Denver Foundation has three roles: stewarding an endowment to meet current and future needs for Metro Denver, working with community leaders to address the core challenges that face the community, and managing more than 1,000 charitable funds on behalf of individuals, families, and businesses. For more information, visit http://www.denverfoundation.org.