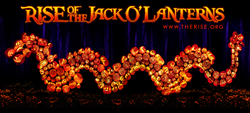 Boston, MA (PRWEB) August 10, 2016
This fall, RISE of the Jack O'Lanterns is debuting in Boston after sold-out events in New York and Los Angeles. With four dates to see this iconic fall event, RISE will bring out the Halloween spirit in visitors of all ages, indoors at the Boston Seaport Hotel and World Trade Center, from October 27 – 30.
RISE provides a unique, memorable family-friendly experience with over 5,000 hand-carved illuminated jack o'lanterns creatively arranged along a scenic walking path, set to a musical score. Jack o'lantern art will include individual time-honored characters from American pop culture, multi-pumpkin artistic structures including life-sized dinosaurs and dragons, and intricately carved 100-pound pumpkins. With multiple live carving stations, visitors can watch our talented artists create the different displays seen in the show.
The pumpkin trail at RISE of the Jack O'Lanterns is well-lit and well-staffed to ensure that the experience is always safe and enjoyable for visitors of all ages. Advance tickets are REQUIRED, with no tickets sold at the door. Ticket information can be found at http://www.therise.org/ma.
WHAT:
RISE of the Jack O'Lantern is the only event in North America that features 5,000 real pumpkins carved into intricate designs
WHEN:
Thursday, Oct.27 (6:00 p.m. – 9:30 p.m.)
Friday, Oct. 28 (10:00 a.m. – 10:30 p.m.)
Saturday, Oct. 29 (10:00 a.m. – 10:30 p.m.)
Sunday, Oct. 30 (10:00 a.m. – 10:30 p.m.)
WHERE:
Seaport Hotel and World Trade Center
200 Seaport Boulevard
Boston, MA 02210
About RISE of the Jack O'Lanterns
A truly unique, family-friendly event, RISE of the Jack O'Lanterns features thousands of hand-carved illuminated Jack O'Lanterns creatively arranged along a scenic walking path and set to a musical score designed to bring out the Halloween spirit in visitors of all ages. In its fifth year at the original New York location Old Westbury Gardens, RISE is now on both coasts with events in Los Angeles, and debuting in 2016 in New Jersey and Boston. RISE of the Jack O'Lanterns is the only event in North America to carve 5,000 real pumpkins each weekend at each location. For more information, visit http://www.therise.org/ma
###