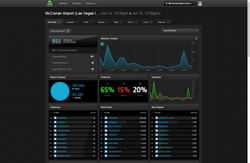 Social media and
Denver, CO (PRWEB) August 19, 2016
Social media just became easier, and more impactful for businesses of all sizes with iWeSocial's release of their new product called iWeSocial Stream. Not only is Stream a one-stop dashboard for all the conversations around your brand, but it's also a social media publishing tool, analytics tool, that can also create professional looking reports that create visuals and graphs straight from the data.
With the Monitor tool, users can see comments and mentions about their brand and products across a multitude of social media channels, blog sites, and even rss feeds the instant they are live. The Monitor also makes the distinction between negative sentiment and positive sentiment by highlighting posts and comments in green or red. According to iWeSocial Vice President and VP, Evan Escobedo, "With the touch of a finger, or the click of a mouse, a company can see and react immediately to negative sentiment around your brand and respond directly from the platform whether it's a Twitter or Facebook post. It will also tell you how much influence that person carries which can help avert a crisis immediately."
The key to the entire product and dashboard is the visual element, and it's ease of use. Stream will tell you which comments are positive by showing circles that are green. The bigger that circle is, the more influence that person has. You can also use Stream to help you make future decisions about products or production. "We like to call it predictive analytics or predictive monitoring. Theoretically, a pharmaceutical company that makes a flu vaccine, for instance, could monitor for specific terms and flu symptoms such as 'cough', 'fever', or 'flu' and use the data from these terms to help determine how much vaccine to make that year" said Evan Escobedo. "iWeSocial Stream could potentially replace the need for a data scientist at a fraction of the cost." Another one of the major benefits of using iWeSocial Stream is that you won't be limited to how many different searches you can setup, and you can create dashboards for as many different topics as you please.
iWeSocial Stream simply adds power to any company's social media and branding efforts. It listens, and enables you to respond the minute something happens, good or bad. It not only saves money, but saves a lot of time by putting everything you need in one beautiful dashboard. And you don't have to be a data scientist to use it. Anyone can use it. Having the social stream displayed at all times in your workplace is a game changer. Everyone in the office will know that they have eyes and ears on the conversations that matter.
iWeSocial is offering free demos of iWeSocial Stream by contacting them at info(at)iwesocial(dot)com or calling them at 720.880.5492.
Media Contact
Evan Escobedo
720.880.5492