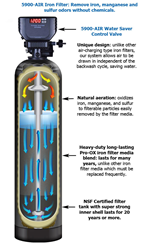 Santa Cruz, California (PRWEB) August 11, 2016
For homeowners on their own private well, excess iron and odor can be a serious problem. Iron in well water is a widespread problem affecting hundreds of thousands of wells. Well or spring water can be high in iron, staining fixtures and laundry, clogging valves, and irrigation systems and ruining water heaters and appliances.
Millions of families and businesses worldwide depend on high quality water from their water wells. Private ground water wells can provide clean, safe, potable water. However, well water can also contain a large amount of iron. It is the responsibility of well owners to maintain and treat their well water when problems arise.
Well water often has iron, manganese, sulfur odors and sediment. Clean Water Systems now has introduced an improved advanced water-saving Aeration Iron filter systems, the 5900e-AIR Iron Filtration System. This system removes iron and eliminates annoying odors that comes from iron and sulfur odors without the need for chemical treatment.
Advanced Control Valve Saves Water
The Pro-OX 5900-AIR iron filter, utilizes a special mechanism that combines the use of aeration and a long-lasting manganese dioxide filter media. This filter media and components have been approved by NSF.
Unlike other Air-Charger-type iron filters that must backwash once a night, the Pro-OX-5900-AIR draws in air each night without needing to go through a backwash and rinse. It replenishes the air needed to filter the elements without wasting water.
Other air-charging type iron filters undergo complete backwashing every night in order to refresh the air pocket inside the filter which can waste a lot of water each week. The state-of-the-art control valve on top of the tank allows new, filtered air into the air pocket without the need for backwashing.
While the system is in use, the tank maintains an air pocket on top. Water enters from the top of the tank, so it naturally passes through the air pocket. When it does, the air pocket oxidizes the rotten-egg odors (hydrogen sulfide) and iron that is in the water, removing the odors from the water. At the same time, dissolved oxygen is automatically added to your water.
The iron and manganese particles are automatically removed because the filters are automatically backwashed and rinsed regularly once or twice a week.
"The system was custom designed to provide years of clean, iron-free water to homeowners without the need to change the filter media. This is a system that will last for many years," said Gerry Bulfin, President and General Manager of Clean Water Systems.
Clean Water Systems & Stores specializes in water treatment of contaminated well water in North America and has over 25,000 customers in over 40 countries. The company provides custom easy-to-install water treatment systems and products in a large variety of different types and configurations including systems for removing iron, manganese, sand, odors, bacteria, turbidity and sediment.