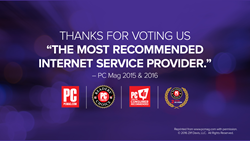 We appreciate and sincerely thank our customers...naming RCN #1 in overall satisfaction for the second year in a row
PRINCETON, New Jersey (PRWEB) August 11, 2016
RCN, an industry-leading provider of high-speed Internet, digital TV and phone services, has received PCMag's "2016 Readers' Choice Award for Best ISP" for the second year in a row. PCMag is the largest professional reviewer of consumer electronics and tech products worldwide. RCN Internet service won top honors amongst ISP providers across the nation exemplifying its commitment to quality, customer service, satisfaction, speed and reliability.
RCN's ratings for satisfaction and technical support were the highest among the ISPs, leading to RCN's top rating for likelihood to recommend of 8.5, ahead of Verizon FiOS's 8.2, Comcast's 6.1 and Time Warner Cable's 6.2. According to PCMag, "Our respondents indicate that RCN is the complete package with top satisfaction ratings for overall satisfaction, fees, and support. It rates among the best for speed and reliability. It's also the ISP most highly recommended by its customers. If you're lucky enough to have RCN in your area, get it."
"We focus on providing the best speeds, the best price coupled with US-based customer service, technical support and innovative ideas for a better, faster and more reliable consumer offerings," said Chris Fenger, Chief Operating Office for RCN. "At RCN, we remain committed to creating the best customer experience every day. We appreciate and sincerely thank our customers and PCMag readers for their votes and affirmations, naming RCN #1 in overall satisfaction for the second year in a row."
The results from PCMag's "2016 Readers Choice Award for Best ISP" acknowledges RCN with the following accolades:

RCN voted #1 for overall satisfaction.
Highest satisfaction for initial setup & pricing.
Highest ranking for customer service & technical support.
Highest likelihood for customers to recommend.
Lowest percentage of respondents needing repairs within last 12 months.
Additionally, RCN offers both Hulu and Netflix content as a channel through its DVR powered by TiVo, further confirming the company's commitment to delivering a high quality viewing experience for today's most sought-after content. RCN also tops the Google Video Quality report with its YouTube HD Verification.
RCN's advanced network delivers Internet speeds of up to 155Mbps, a superior TiVo experience, personalized video options and more – all accompanied by the very best customer service. Additional information about RCN's full portfolio of services can be found at rcn.com or by calling 1-800-RING-RCN.
# # #
About RCN Telecom Services, LLC
RCN Telecom Services, LLC (http://www.rcn.com and http://www.rcn.com/business) provides industry-leading high-speed Internet, all-digital TV and phone services for residential, small/medium and Enterprise business customers. PCMag's Readers' Choice Award named RCN one of the winners for best ISPs in 2013, 2015 and 2016 – RCN was rated highest in overall satisfaction. RCN is YouTube HD Verified, earning the company the highest-ranking that Google offers. RCN is also a Netflix Open Connect partner, placing in the Top rankings on the Netflix USA ISP Speed Index in the markets RCN serves. RCN's affordably priced advanced digital services are delivered through its proprietary, state-of-the-art fiber-rich network and supported by 100% U.S.-based customer service. RCN's primary service areas include Boston, Chicago, Lehigh Valley (PA), New York City, Philadelphia (Delaware County) and Washington, DC.