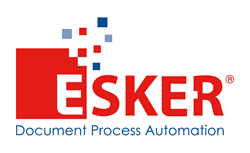 With Esker, we can grow with the solution. The ability of our CSRs to more effectively manage output, be more hands on with customers and better maintain their own accounts provides us limitless opportunities for improving order management
Madison, WI (PRWEB) August 15, 2016
Electro-Matic Products, Inc., a leading supplier of high technology automation components and services, recently announced its agreement with Esker, a worldwide leader in document process automation solutions and pioneer in cloud computing, to automate its order management process. Esker's cloud-based order processing automation solution will integrate with Electro-Matic's existing Prophet 21 ERP system.
Processing around 3,400 orders monthly from a customer base of approximately 2,500, Electro-Matic had previously used a template-based auto-order solution (alongside its ERP system) to automate aspects of the process. While the solution performed its intended function, it only had the capacity to automate order processing for 10 percent of Electro-Matic's customers — that is, unless additional templates were purchased. Electro-Matic sought a less restrictive solution with more advanced functionality, as a result. Already an Esker VSI-FAX customer, the company was intrigued by Esker's rules-based solution for its OCR technology and the ability to process orders of every format (e.g., PDF, fax, email, etc.).
Another advantage of choosing Esker was the solution's scalability. Electro-Matic's customer base was growing, and adding another employee for the sole purpose of manually processing orders was not an option the company wished to entertain. Carrie Cahill, manager of continuous improvement at Electro-Matic, explained the importance of this, saying: "With Esker, we can grow with the solution. The ability of our CSRs to more effectively manage output, be more hands on with customers and better maintain their own accounts provides us limitless opportunities for improving order management."
One problem Electro-Matic hopes to eliminate with Esker is the potential for order entry errors, which can produce added costs in a manual order management process. With its intelligent data capture capabilities, Esker's order processing automation solution will eliminate expenses associated with returns, restocking and reshipping products caused by errors.
Electro-Matic plans to move the twenty customers whose orders they've already automated over to Esker first, and then gradually transition the rest. Eventually Esker's solution will be implemented at all three of Electro-Matic's subsidiaries. Moving forward with its automation initiative, Electro-Matic has also signed a contract with TermSync, an Esker company, to automate its accounts receivable process.
About Electro-Matic Products, Inc.
Established in 1969, Electro-Matic Products, Inc. is a supplier of a complementary group of high technology automation components targeting the users and manufacturers of industrial automation equipment. With corporate headquarters in Farmington Hills, Michigan, it serves the automotive, chemical, pharmaceutical, rubber/steel, utilities and industrial manufacturing markets with approximately 200 employees.
About Esker
Esker is a worldwide leader in cloud-based document process automation software. Esker solutions help organizations of all sizes to improve efficiencies, accuracy, visibility and costs associated with business processes. Esker provides on-demand and on-premises software to automate accounts payable, order processing, accounts receivable, purchasing and more.
Founded in 1985, Esker operates in North America, Latin America, Europe and Asia Pacific with global headquarters in Lyon, France and U.S. headquarters in Madison, Wisconsin. Last year Esker generated 58.5 million euros in total sales revenue. For more information on Esker and its solutions, visit http://www.esker.com. Follow Esker on Twitter @EskerInc and join the conversation on the Esker blog at blog.esker.com.