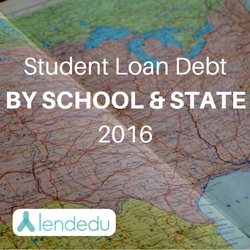 Hoboken, NJ (PRWEB) August 11, 2016
Student loan debt is a serious issue for college graduates, according to a new report issued by LendEDU. At nonprofit public and private colleges in 2015, six out of ten graduates had student debt. According to the report, the average borrower had approximately $28,400 in student debt in the Class of 2015. Private institutions gave average borrowers $31,710 in student debt, whereas public institutions gave average borrowers $26,872 in student debt. On an overall basis, the average graduate had approximately $16,033 student debt in the Class of 2015.
LendEDU's Student Loan Debt By State By School Report 2016 was created using the newest Peterson's financial aid data. Peterson's released the fresh data for the Class of 2015 at the start of August 2016. LendEDU is the first organization to aggregate and analyze this data for the Class of 2015. The data was reported through a survey to the colleges and universities listed in the report. For reference, the data is released on a one year delay. The Class of 2016 data will not be available until the Fall of 2017.
LendEDU organized the report and data on a state level and a school level. You can use LendEDU's interactive map to explore the data on a state by state basis. LendEDU ranked the states on the basis of average student debt per borrower. From there, LendEDU ranked the individual institutions to show which colleges are giving student debtors the most, and the least, amount of student debt at graduation.
"Our team put in over 50 hours aggregating and analyzing this data," said LendEDU CEO/Co-Founder Nate Matherson. "Student debt is an important issue. We hope our report and rankings help students and families make educated decisions when it comes to student debt. And, we hope that our data inspires educators and policymakers to concentrate on this issue."
The results were quite diverse on the state and school level. School averages for student debt at graduation in 2015 ranged from a low of $3,000 per borrower to a high of $86,262 per borrower. State averages for student debt in 2015 ranked from a low of $18,772 per borrower in Utah, to a high of $36,864 per borrower in Connecticut.
States with High Student Debt
Connecticut -- $36,864.63
Rhode Island -- $35,169.37
New Hampshire -- $34,809.66
Pennsylvania -- $34,538.34
D.C. -- $31,941.74
Minnesota -- $31,434.81
Massachusetts -- $31,411.30
New York -- $31,139.17
New Jersey -- $30,536.25
South Carolina -- $30,387.06
To see the full school level and state level rankings please review the full report. We analyzed all 50 states and over 1,300 colleges in our full report. LendEDU licensed the data from Peterson's for this report.
###
About LendEDU
Since 2014 LendEDU has delivered free financial aid resources to high school and college students. LendEDU is a marketplace for student loans and student loan refinancing. LendEDU helps graduates find the lowest student loan quotes with one application. The company is partnered with all of the leading student loan companies including SoFi, Citizens Bank, Sallie Mae, College Ave, Earnest, LendKey, Darien Rowayton Bank, among others.
LendEDU was founded by Nate Matherson and Matt Lenhard in August of 2014. LendEDU is a graduate of Y Combinator's W16 class, the Iowa Startup Accelerator, and the Horn Program at the University of Delaware.
For more information, please contact:
Dave Rathmanner
Email: dave.rathmanner(at)lendedu(dot)com
Phone: (302) 690-7186