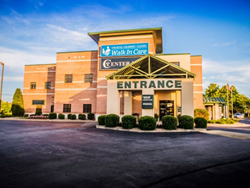 Property offered at public auction by order of the court
Bowling Green, Kentucky (PRWEB) August 12, 2016
The Master Commissioner of Warren County has ordered the sale of two outpatient healthcare and office buildings to be sold at public auction. This is a dissolution of the Urgentcare Properties partnership, which are located in the hub of healthcare, retail, office and hospitality in Bowling Green.
The modern facilities include a 17,400+/- square foot building located at 1110 Wilkinson Trace and a 21,800+/- square foot building located at 1225 Fairway Street. Both feature paved parking lots.
Thomas R. Hunt Auctioneers will conduct the live auction with simulcast online bidding at the Holiday Inn University Plaza on September 15. The property will be sold in two tracts and can be purchased together or separately. For preview dates of the buildings and more information, contact auctioneers Rob Mathews at (270) 893-8499, Tommy Hunt at (270) 796-0015 or Lynn Hunt at (270) 784-8094. Case reference: Warren Circuit Court, Division No. I, Civil Action No. 14-CI-835.
Thomas R. Hunt Auctioneers has conducted auction sales in south central Kentucky and other parts of the country for over 40 years. As a member of MarkNet Alliance, a network of more than 60 auction companies, they reach bidders across the country to maximize auction results for sellers.
Media Contact: Rob Mathews, rob(at)wrhuntgroup(dot)com, (270) 893-8499