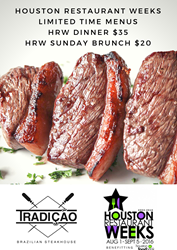 Special $35 three course dinner menu and $20 Sunday Brunch buffet with a portion going to charity
(PRWEB) August 10, 2016
Houston, Southwest Houston and Clear Lake residents will be able to dine with a clear conscious during the month of August. The annual Houston Restaurant Weeks, a charity event involving more than 200 restaurants with special menus, raises money for the Houston Food Bank. Tradicao Brazilian Steakhouse will be featuring a dinner and Sunday brunch menu for this wonderful cause. The dinner menus is a $35 three course unlimited meat experience with $5 being donated. Sunday brunch is a $20 buffet with $3 being donated.. Highlights of the dinner menu include unlimited grilled beef, cognac marinated chicken, parmesan dusted pork tenderloin and bacon wrapped beef, along with their signature gourmet salad bar. Sunday brunch features a pork belly feijoada, a Brazilian black bean stew, omelettes and waffles.
"We had tremendous support the past years and we have been fortunate to donate over $37,500 or 112,500 meals for Houston Food Bank." Melissa Abrantes, Tradicao Brazilian Steakhouse's marketing director said. "We are hoping to make an even larger donation this year!"
They have two locations to choose from – Southwest Houston/Fort Bend at 12000 SW Freeway or in Clear Lake/Webster at 201 W. Bay Area Blvd. To contact the SW Freeway location call 281-277-9292. To reach the Bay Area Blvd. location, please call 281-557-9999. Reservations are required to participate.
More information about Tradicao Brazilian Steakhouse is also available on their website at
http://www.Tradicaosteakhouse.com.
About Tradicao Brazilian Steakhouse
Tradicao Brazilian Steakhouse offers diners a full, all-you-can-eat, Brazilian dining experience. From traditional Picanha top sirloin steak and Filet Mignon, served table-side, to delicious shrimp and fresh salmon - Tradicao Brazilian Steakhouse has all of the best Brazilian steak and seafood offerings.