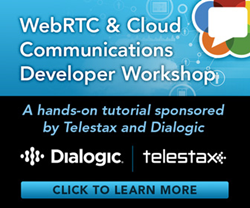 This is an opportunity for web and telecom developers to build on their skill set utilizing Communications Platform as a Service (CPaaS) solutions such as Telestax Restcomm, Twilio, Avaya Zang, Genband Kandy, and others.
Parsippany, NJ (PRWEB) August 11, 2016
Dialogic, a cloud-optimized applications and infrastructure solutions provider for service providers, enterprises, and developers, and Telestax, a preferred platform for deploying rich, scalable communications applications, today announced that the companies will be hosting a series of one-day, hands-on WebRTC and Cloud Communications Developer Workshops for telecom and web developers across a number of cities around the globe.
Attendees to the workshops will be taught how to develop cloud communications applications with voice, video, SMS, and WebRTC features using drag-and-drop development environment, a popular high-level mark-up language, and communications APIs. Building on this, the workshops also will provide instruction on mobile clients and mobile SDKs that support both Apple iOS and Android. Coursework materials include a number of supplied sample applications and plenty of lab time with instructor support, giving attendees an opportunity to turn their own ideas into working applications.
"The goal for these workshops is to help educate developers on real time communications technology and to have them apply their skills by building an application that utilizes real time voice, video, or messaging. This is not as hard as it seems – as long as you have the right tools. And we want to show developers the right tools to use," said Ivelin Ivanov, CEO of Telestax.
"This is an opportunity for web and telecom developers to build on their skill set utilizing Communications Platform as a Service (CPaaS) solutions such as Telestax Restcomm, Twilio, Avaya Zang, Genband Kandy, and others," said Alan Percy, Senior Director of Product Marketing at Dialogic. "By cultivating their skills, developers who build on these platforms can make themselves more desirable, including for new career opportunities."
The workshop series will be launched at the Dialogic corporate office in Parsippany, NJ on Sept 27, 2016, with doors opening at 9am (EDT) and adjournment at 4pm (EDT). The workshop provides complimentary coffee/tea, snacks, and lunch. Participants should already be comfortable with basic programming principles and will need to bring their own laptop with a current Google Chrome browser. Every developer who attends the workshop will have an opportunity to participate in a closing micro hack to share their ideas and a chance to win prizes.
Additional workshops are scheduled at a number of cities throughout fall of 2016:
Parsippany, NJ - Sept 27, 2016
San Jose, CA - Sept 29, 2016
Chicago, IL - Oct 4, 2016
Austin, TX - Oct 6, 2016
Paris, France - Oct 20, 2016
Tokyo, Japan - Nov 1, 2016
Lisbon, Portugal - Nov 19, 2016
For more information, and to reserve your seat, please go to the WebRTC and Cloud Communications Developer Workshop Series website.
About TeleStax
Telestax is the company behind Restcomm™, the most widely adopted open source platform for developing and deploying real time communications applications. Restcomm enables web and mobile developers in all markets to quickly develop, deploy and scale real-time voice, video and messaging applications and services. With over 4.6 million lines of code, the Restcomm project is mature and well established. Greater than 25.6 thousand commits by large team of over 180 committers make the Restcomm community more active than leading open source projects available from the Apache Foundation. Because so many real time communications companies and their products utilize all or part of Restcomm, the product enjoys mass adoption within 90% of the F1000. Restcomm open source is available from GitHub. Restcomm Enterprise is available under a subscription license through Telestax. For more information on Restcomm or Telestax, please visit http://www.telestax.com.
About Dialogic
Dialogic is a leading cloud-optimized solutions provider for real-time communications media, applications, and infrastructure to service providers, enterprises, and developers around the globe. Based in Parsippany, NJ with offices worldwide, Dialogic helps 48 of the world's top 50 mobile operators, and nearly 3,000 application developers build and deploy on agile networks. Learn more about how Dialogic is enabling agility by following us on Twitter @Dialogic, and visiting http://www.dialogic.com and the Dialogic Blog for the latest industry news, trends, and advice.
Dialogic is a registered trademark of Dialogic Corporation or an affiliate or subsidiary thereof ("Dialogic"). Other trademarks mentioned and/or marked herein belong to their respective owners.
Contact:
Dialogic
Tim Moynihan
VP of Marketing
(973) 967 5001
Timothy(dot)moynihan(at)dialogic(dot)com