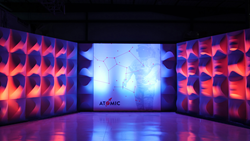 Lititz, PA (PRWEB) August 11, 2016
ATOMIC, a creative company providing rental solutions, set construction, design and production services for the live event industry, announces a new modular product line: FABlok. It's about that time for another remarkable product line to launch, after the award-winning FASTwall and SuperWall systems. The FABlok system consists of panels built with expanding fabric and tabbed inserts that pack small but play big when assembled to create the 3D panels. The FABlok product line takes all things that fabric does well and combines it with ATOMIC's patented SuperLever connector system.
As with all ATOMIC products, the extensive R&D process resulted in a new product line built specifically for event designers to use creatively all while keeping modularity, logistics and budget in mind. FABlok can be built into walls, columns or backdrops with absolutely no tools or additional hardware and it packs completely flat. FABlok panels are ideal for front lighting and the soft fabric creates an excellent projection surface.
The FABlok build starts by inserting a bendable plastic piece into the fabric-covered frame. FABlok panels morph and warp with the inserts like Dune, Notch and Wave to create unique patterns within the backdrop, wall or column being built. The FABlok fabric provides a soft, light absorbing backdrop for a stage, studio or event space as well as providing a surface area that can be branded for any event. FABlok offers multiple branding options with custom printing, projection or lighting. Call us today at 717-626-4408 about renting FABlok and to request CAD files for your next design!
About ATOMIC:
Headquartered in Lititz, PA, ATOMIC is a creative company in the business of live events and environments for entertainment and brand communication. ATOMIC has a diverse collection of creatives. Our team of producers, designers, engineers, artists, storytellers, technicians and craftsmen provide set construction, rental solutions, design and production services to clients across the globe. Established in 1994, ATOMIC is rooted in the rock & roll industry, joining Clair Global and TAIT in Lititz, PA as part of the Rock Lititz industry cluster. Now with a presence in Los Angeles, New York, Miami and Tokyo, ATOMIC serves clients from television networks to global brands to designers and artists. ATOMIC drives each project forward. No Surprises. Unique Results. For more information on ATOMIC please visit http://www.atomicdesign.tv