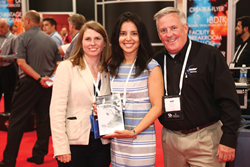 I'm sure with this reaction from users this product will be a great success for MMF
Wheeling, Illinois (PRWEB) August 12, 2016
MMF is honored to announce that on July 21, the PayVue® Illuminated Cash Drawer won the North American Office Products (NAOPA) People's Choice Award from Office Products International (OPI). Winners were announced at S.P. Richards' Advantage Business Conference (ABC).
Payvue received the most votes among the 25 nominees and recognized as an innovative new product that benefits end-users. "I'm sure with this reaction from users this product will be a great success for MMF," said Steve Hilleard, CEO of OPI.
Now in their seventh year, OPI evaluates some of the best business products in North America for the award program. PayVue was also one of five finalists in the Best Technology product category. This award is given for innovation, design, functionality and how the product improves currently available designs.
The all-new, patent-pending PayVue Illuminated Cash Drawer uses an energy-saving LED light source to clearly light the cash drawer for improved transaction accuracy and speed, customer service, loss prevention management, and low light ambiance. PayVue is ideal for use in restaurants, bars, and nightclubs.
A recent case study at the Howard Street Inn, Niles, Illinois, confirmed PayVue's benefits, according to Ken Hoffman, its Owner: "PayVue has made it easier to monitor cash operations. My staff likes it because it helps them see what they are taking in and giving back. This has resulted in fewer shortages, and ultimately higher profit. It's good for us all."
Howard Street Inn Manager Rebecca Ebert also commented on improved efficiencies and the positive impact PayVue has had on bar ambiance. "The drawer's balancing much better now. Closing's much faster too, which I really appreciate after a long day. PayVue's light makes it easier to see what you're doing. It enhances the bar's atmosphere too. The cash drawer's light fits right in with the overall image we worked hard to create."