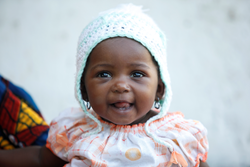 Vaccines are truly a global health success story.
Washington, DC (PRWEB) August 11, 2016
The United Nations Foundation's Shot@Life campaign today announced an exclusive fellowship to Eastern Africa for a select group of bloggers in October 2016. Bloggers will meet with mothers, children and health care workers to see and hear first-hand the importance of childhood immunization both in urban and rural settings. Additionally, attendees will receive in-depth briefings and knowledge from country experts about the health situation of children living in Eastern Africa.
"Vaccines are truly a global health success story," said Devi Thomas, Director of the Shot@Life campaign. "Each year they protect millions of children around the world from some of the most deadly and disabling diseases. However, one in five children still do not have access to the vaccines they need. With this fellowship we hope to raise awareness and generate support for children around the world."
The fellowship is intended for U.S. and Canadian-based bloggers who have written about children's health. Special consideration will be given to bloggers who are active on social media and have a working knowledge of global health or foreign affairs.
The application deadline is September 9, 2016. To apply, click here. For more information please contact ckobrin(at)unfoundation(dot)org.
###
About Shot@Life
Shot@Life, a campaign of the United Nations Foundation, educates, connects and empowers individuals to champion global vaccines as one of the most effective ways to save the lives of children in developing countries. Go to ShotAtLife.org to learn more.
About the United Nations Foundation
The United Nations Foundation builds public-private partnerships to address the world's most pressing problems, and broadens support for the United Nations through advocacy and public outreach. Through innovative campaigns and initiatives, the Foundation connects people, ideas, and resources to help the UN solve global problems. The Foundation was created in 1998 as a U.S. public charity by entrepreneur and philanthropist Ted Turner and now is supported by philanthropic, corporate, government, and individual donors. Learn more at: http://www.unfoundation.org.