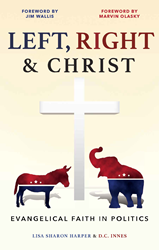 The task of government is simple and limited: punish those who do evil and praise those who do good.
(PRWEB) August 11, 2016
"One nation, under God, indivisible with liberty and justice for all." Even the United States' Pledge of Allegiance echoes a call for some sort of unity. Is this achieved in today's Christian faith and politics? Authors D.C. Innes and Lisa Sharon Harper write to expand on that very question in the updated edition of Left, Right & Christ, released on Aug. 9.
D.C. is the Associate Professor of Politics and Chairman of the Program in Politics, Philosophy, and Economics at The King's College in New York City. Lisa is the the Chief Church Engagement Officer for Sojourners, a Christian organization promoting social, cultural, and environmental justice.
D.C. and Lisa discuss and explore how the Christian faith speaks directly to American politics today, but with different understanding and applications. They address many thought-provoking questions, including:

Does God care about politics? Should we?
Is it the government's role to take care of the sick?
Do legalized abortions increase the number of abortions?
Should we support people's freedom to choose a definition of marriage, even if we disagree?
Does a free country mean that everyone is free to come here?
Is the earth so fragile that the government should step in to protect it?
The author pair crafts compelling chapters on hot issues that will keep Christian Americans thinking about how to personally navigate the intersection of faith and politics.
According to Marvin Olasky, Editor-in-Chief at World Magazine, "If this isn't a conversation starter for Christians, then nothing else will be."
Released on Aug. 9 at all major retailers, Left, Right & Christ is a must read for anyone interested in understanding why two very different political parties still have very common faith-based principles. Find more information at http://www.ElevatePub.com.