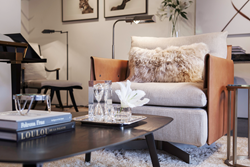 We have sourced unique pieces of exceptional quality from around the world to express our vision.
Jackson Hole, Wyoming (PRWEB) August 11, 2016
Jackson, Wyoming, isn't all boardwalks, boots and spurs. At WRJ Design a curated array of 15 international and domestic lines are exclusively carried in Jackson Hole by the firm, announced WRJ Design CEO Rush Jenkins. From hand-blown glass created in an artisan factory on the Italian island of Murano to a North American company innovating with materials such as kraft paper-wrapped wire for its tough yet beautiful outdoor furniture, the exclusive lines add global finesse to WRJ's two Jackson Hole showrooms.
"We have sourced unique pieces of exceptional quality from around the world to express our vision, a blend of alpine elegance, casual contemporary, classic sophistication and natural luxury," says Jenkins, who, with COO Klaus Baer, recently led members of their design team on a European behind-the-scenes tour of factories and showrooms from their exclusive lines.
Crafting luxury interiors with exquisite refinement in a place that is otherwise defined by the rugged landscape of the Teton Mountains is a hallmark of WRJ Design. Together with Baer, Jenkins grounds design projects with iconic European collections from Poltrona Frau (Italy); Molteni & C (Italy); Hermès (France); and Arpin (Belgium); as well as American greats Ralph Lauren and Bolier.
During the trip to Italy for 2016 Milan Design Week this spring, Jenkins found creative impetus on a visit to the Carlo Moretti artisan glass factory. "Every piece inside the Carlo Moretti compound—be it finished, in-process or shattered—feels like a work of art made incandescent by transcendent inspiration," he says. See WRJ Design's Hunt x Gather blog for more of the WRJ team's experiences in the field.
Following a career as curator for exhibition design at Sotheby's in New York, Jenkins teamed up with Baer to open their design studio in Jackson nearly four years ago. There, Jenkins pairs his Rocky Mountain roots with a sophisticated aesthetic, while Baer adds his own international and urban influence. The duo continues to scour the globe to source rare and indelible elements for unforgettable application in interior designs for their Wyoming-based firm.
Juxtaposing the natural elements of the West with finely crafted worldly influences is emblematic of WRJ's designs. The firm might pair the clean-lined organic forms of Janus et Cie's outdoor furniture line with Jackson Hole's remarkable mountain setting. Or layer the lush textures of Loro Piana textiles to combine fashion and comfort. And the addition of Hermès table settings elevates the simplest venue to high art. WRJ understands that the relaxed lifestyle of the West is best when punctuated with luxurious detail.
WRJ Design has selected the 15 lines exclusively for their showrooms to channel profound experiences with beauty from recent sojourns to Italy, France and the U.K. The result is a polished connection of the Rocky Mountain's natural landscape with the finest examples of contemporary international design.
About WRJ Design:
Headquartered in Jackson, Wyoming, WRJ Design imparts the special serenity of its local Teton landscape to interior designs in Jackson Hole and across the country. Begun out of a passion for great design by Rush Jenkins and Klaus Baer, WRJ creates experiences and environments through its designs, whether for interiors or exhibitions, that provide timeless reflections of the owners or collectors. WRJ's exhibition designs for titans of philanthropy, fashion, music and politics offer insight into the lives of these luminaries as they showcase the objects they loved. For more information visit http://www.wrjdesign.com.
Media contact: Amy Stark, Word PR + Marketing, amy(at)wordprmarketing(dot)com, 307.734.5335