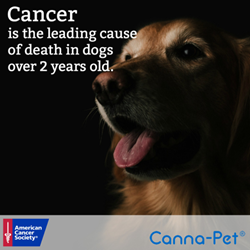 Anaheim, Calif. (PRWEB) August 11, 2016
The American Cancer Society's "Bark For Life™" is a non-competitive walk event for dogs and their owners to raise funds and awareness for the American Cancer Society's fight against cancer, specifically to promote and support canine cancer research.  The upcoming PAWriffic day of fun, games, and activities at the Bark For Life of East Orange County is scheduled for Saturday, August 13th at the Ronald Reagan Park in Anaheim, California.
According to The Journal of American Veterinary Medical Association, cancer is the leading cause of death in dogs over two years old. Canna-Pet produces the first and only hemp cannabinoid (CBD) products specifically for pets that are safe, legal and provide much-needed, natural relief for dogs fighting cancer.
Andrea Freedberg is the owner of an 11-year-old, two-time cancer surviving, working therapy dog. Freedberg has been using Canna-Pet products to alleviate the side effects of her dog's cancer, saying, "Canna-Pet has significantly improved Petey's quality of life, happiness, and ability to continue to help others as a service dog."
As part of its partnership with the American Cancer Society, Canna-Pet will be donating dozens of boxes of their Canna-Biscuits, CBD dog treats, to help raise funds for the important cause. Canna-Biscuits will also be available for sale on-site at the event, with proceeds benefiting the American Cancer Society. Additionally, those who can't personally attend the event can still enjoy 25% off Canna-Pet products purchased online with the code: barkforlife25. A portion of all product sales will be donated to the American Cancer Society's Bark For Life™ (offer valid from August 1-13).
Bark for Life™ event organizer, Linda O'Neil, had a personal experience with Canna-Pet's CBD products, when her dog, Jake, was diagnosed with cancer.
"I know how effective the biscuits are since my dog Jake had cancer and two other dogs I know use it effectively for anxiety and arthritis," says O'Neil. "Jake lasted a couple years longer and happier than he would have otherwise."
Supporters of Bark For Life™ help the organization to save lives and to research new and existing treatment options to ultimately help find a cure for canine cancer.
To learn more about the event, click here. Follow Canna-Pet on Facebook and Instagram. If you are a member of the media and would like to request more information, an interview or sample request, contact Kerry Sutherland, K. Sutherland PR, (775) 360-6101.