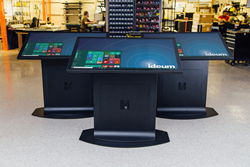 With the release of the 43" and 49" touch displays, our entire line of touch tables and touch walls now have 4K Ultra HD displays.
CORRALES, NM (PRWEB) August 12, 2016
Ideum (http://www.ideum.com) today introduced first-of-their-kind 43" and 49" 4K Ultra HD multitouch displays with 3M™ touch technology. The new displays join Ideum's existing line of 55" and 65" touch displays, and are available in the full range of Ideum's popular Platform, Drafting, and Duet multitouch tables, as well as the Presenter touch wall series. The 49" display is also offered in Ideum's professional-grade Pro series. In total, Ideum has 9 new touch wall and multitouch table offerings with the release of these new displays.
The new 43" and 49" displays combine the clarity and resolution of Ultra HD with 3M's latest touch technology, which supports 80 simultaneous touch points. The displays are encased in aircraft-grade aluminum with lockable access ports, providing security and durability for demanding, high-traffic environments.
Ideum has also announced new computer systems for all of its touch walls and multitouch tables. The standard model has an Intel i7 Quad Core PC, 16GB RAM, a 512GB Solid State Drive (SSD), a powerful GTX 1070 NVIDIA graphics card, and comes with Windows 10. Each system can be upgraded to 32GB RAM, dual 512GB Solid State Drives (SSD), and a GTX 1080 NVIDIA graphics card. These integrated systems can be added to the Presenter display for an all-in-one touch wall computer system.
"With the release of the 43" and 49" touch displays, our entire line of touch tables and touch walls now have 4K Ultra HD displays," said Ideum Creative Director and Founder, Jim Spadaccini. "Combined with 3M's latest touch technology and Ideum's durable engineering, our displays offer the most advanced solution for interactive installations."
Designed and built in the USA, all of Ideum's hardware is built to exacting standards. Ideum has been designing and selling large-scale, integrated touch systems since 2009. All of Ideum's touch products are backed by a two-year manufacturer's warranty from Ideum.
See the Ideum multitouch tables in action: http://ideum.com/touch-tables/
High-resolution images are available at: https://flic.kr/s/aHskBwcNyY
See Ideum Presenter touch walls in action: http://ideum.com/touch-walls/
About Ideum
Ideum is an innovative design company based in Corrales, New Mexico. The firm focuses on creating the next generation of visitor experiences that blend both the physical and digital realms. Along with its Creative Services software group, Ideum designs and produces integrated and hardened large-scale multitouch tables and touch walls for museums, educational institutions, government agencies, and Fortune 500 companies. It has offered multitouch tables since 2009 and has now sold them in 38 countries. For more information, please visit http://www.ideum.com or contact Esther Lombardi at (505) 792-1110 ext. 1.
Ideum is a trademark of Ideum, Inc. 3M™ is the registered trademark of 3M™ Company.