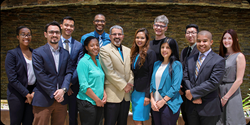 With each TMP, the KGI team works closely with a company sponsor to evaluate a new technology and/or apply new techniques and methodology to improve process development and enhance biomanufacturing.
Claremont, California (PRWEB) August 11, 2016
Amgen Bioprocessing Center (ABC) at Keck Graduate Institute is proud to announce that the 2016 Boehringer Ingelheim Fremont, Inc. (BIFI) Viral Inactivation Team Master's Project (TMP) recently received a poster award for 1st place in Best Innovation Industrial Research at the prestigious Recovery of Biological Products Conference.
Sponsored by the American Chemical Society, Division of Biochemical Technology (BIOT), the international biennial conference provides exposure to the latest developments in bioprocessing, with a focus on downstream processing and show cases technologies and recent developments that affect the downstream unit operation.
Dr. Jon Coffman at BIFI sponsored the project, and Dr. Raquel Orozco of the Process Development team at BIFI presented the poster titled, "Design of a continuous virus inactivation system for clinical scale." The KGI team was led by Dr. Cameron Bardliving, lecturer at ABC, and Dr. Stephanie Parker, the BI-sponsored postdoctoral researcher at ABC. The KGI student team included: Linus Amarikwa, PPC '16; Lindsay Hernandez, MBS '16; Shashidhar Hoskatti, MBS '16; Jinkeng Asong, PPM '15; Ben Mai, MBS '17; Brian Song, MEng '17; and Chinenye Wachuku, MEng '17. The team worked on the deceptively simple unit operation in biomanufacturing of monoclonal antibodies, the low pH viral inactivation, where the pH of the mainstream protein A solution is lowered and incubated for 60 minutes in batch mode to attain up to six log reduction clearance of non-enveloped virus.
The BIFI Viral Inactivation team had the challenge of designing a continuous low pH inactivation unit operation capable of achieving the same end results. The team delivered a novel design of a continuous flow chamber created through application of computational fluid flow modeling of species transport using ANSYS-Fluent and Solidworks CAD model. Several prototype designs were evaluated using first principle modeling and extensive follow up testing at the Amgen Bioprocessing Center at KGI. The lead design was optimized and a 3-D printed version is currently undergoing evaluation by the Process Development team at BIFI, which includes both KGI and BIFI scientists and engineers. Two manuscripts are in preparation describing the work done by the team.
Parviz Shamlou, Amgen Bioprocessing Center director at KGI congratulated the team for a job well done: "Bioprocessing TMPs are typically highly technical with significant laboratory based components. With each TMP, the KGI team works closely with a company sponsor to evaluate a new technology and/or apply new techniques and methodology to improve process development and enhance biomanufacturing. This type of work includes advanced process modeling and experiments, oftentimes leading to original data and analysis which are worthy of publication in peer-reviewed journals. We are delighted that the BI-KGI team, in addition to winning the first poster prize at the 2016 BIOT Conference, are drafting two original articles for publication."
For students, working on the TMP was an opportunity to gain new and applicable skills. Recent PPC graduate, Linus Amarikwa said, "Working on a TMP gave me the opportunity to solve a real-world problem where I learned to work in a diverse team, manage a budget, and employ creativity in the design process."
Read more about KGI
Read more about Bioprocessing at KGI
Read more about Team Master's Project (TMP) at KGI
KGI's mission is to enrich society with breakthrough approaches to education and translational research in the life sciences. By offering customized curricula and real-world experiences, KGI's School of Applied Life Sciences and School of Pharmacy prepare students to excel in a wide range of professional endeavors, blending innovative science with sound business practice, and provide training in the safe, efficient, and ethical use of technology and biotechnology for the benefit of society.