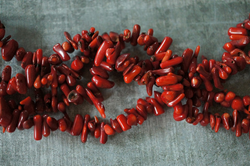 Summer is a time when people think of life and vibrancy.
(PRWEB) August 14, 2016
Summertime is a concept, as well as a season. The warm season often fills people with thoughts of pool parties, vibrant colors, fun vacation destinations, and summer road trips. This state of mind is what brings the fashion industry back to red coral jewelry. The symmetry between the heat of the summer and the cool of the ocean make this vibrant piece one of the most popular during the season. As many companies begin to order their supplies from manufactures, one company has already beat the rest to the finish line.
SilverTribe.com has just announced the release of a new collection of coral jewelry for the summer. Instead of ordering their pieces from some large manufacture, SilverTribe.com distinguishes themselves by working directly with local artists that have made a name for themselves in the jewelry and fine-art industry.
The spokesman of the company, Chris Anderson, gave a few words with this new release. "Summer is a time when people think of life and vibrancy. Red is a color that adds life to any element of the body, lipstick, blush, and even a person's eyes of a lot more luster with some red to accent their natural tones. People love coral for this reason. They want jewelry that can bring out the passion of summer in their outfits, makeup, and skin tone."
The company spares no expense when it came to commissioning this new collection from the artists they represent. Anderson is positive that people will be hard pressed to leave their site without finding something that matches their new summer outfit or style perfectly.
The items among the new collection feature coral rings, pendants, necklaces, and earrings, all featuring the shimmering red color that Anderson believes is the most popular of the summer season.
SilverTribe.com invites anyone looking to stay ahead of the crowd this year to browse their new collection and find the best deal on coral jewelry before they even hit the retail stores this year.