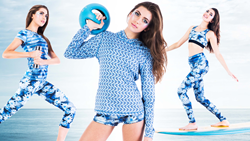 "The materials we use for Eden Active Wear are exactly the same as the performance fabrics I have used in the past for bikinis and rash guards"
Malibu, CA (PRWEB) August 12, 2016
Function comes first - Manufacturing high performance, 4-Way stretch, moisture wicking apparel for the gym, but equally so for the outdoors and particularly on the beach, with the meaningful protection of women's skin against harmful UV Rays.
Fashion is a first equal! Striking and flattering designs are a must in a crowded yoga class, but even more so on the beach as an antidote to the dreaded rash guard.
Previous collections have been focused on floral designs. But for this summer, Jennifer Cawley turned her attention to the beach and decided that a 'Water' themed collection would really help communicate her hybrid attitude towards activewear. The result has been widespread sightings of Eden Activewear on local beaches, in and out of the waters of Southern California.
"The materials we use for Eden Active Wear are exactly the same as the performance fabrics I have used in the past for bikinis and rash guards," says Cawley. "Our Collection of over fifty pieces is designed to assemble in layers. From our Form Shorts and Sports Bra to our Leggings and Hoodie's. You can enjoy a coordinated look, while adjusting to the heat, activity and your surroundings".
In addition to the health benefits mentioned, Eden Activewear has been extremely popular with the Stand Up Paddle community – the world's fast growing water sport. Once again, effective protection from the exposure of the reflected sun is critical as is heat management. Spring and Fall paddle sessions are that much more comfortable with a lightweight, quick drying, moisture wicking base layer that takes the chill out of the air.
"Remember, sun-protective clothing doesn't have to be boring: it can be light and bright and fashionable and fun. And when chosen and used correctly, it's the best form of sun protection you can find," said Dr. Peter Gies. Gies is Senior Research Scientist, Ultraviolet Radiation Section, Non Ionizing Radiation Branch, Australian Radiation Protection and Nuclear Safety Agency.
http://www.skincancer.org/prevention/sun-protection/clothing/protection
"Melanoma is now the most common cancer in women age 25 to 29, and second only to breast cancer in women 30 to 34, according to The Skin Cancer Foundation," said Heidi Kelchner. Kelchner is managing editor for Her Sports magazine.
http://www.active.com/business-and-commerce-beauty-and-personal-care/articles/sun-protection-facts-you-need-to-know
Prices for Eden products range between: $46.00 - $88.00.
Available online at http://www.edenactivewear.com or exclusively at Ranch On The Pier located on Malibu Pier.
Follow on:
Facebook – Eden Activewear
Twitter - #edenactivewear
Instagram - @edenactivewear