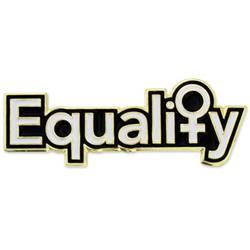 The idea of females advocating for their own rights has become more commonplace...
(PRWEB) August 12, 2016
While the world has achieved progress towards gender equality and women's rights, women and young girls still continue to endure discrimination in every part of the world. PinMart's new Women's Rights Pin and Women's Equality Pin are statement products designed to show support of the rights and advancements of women.
Discrimination against women still exists, particularly in the workplace. "The idea of females advocating for their own rights has become more commonplace since the beginning of the women's rights movement in the 19th century and it is not surprising to see politically active women today advocating for equality," PinMart explains.
Each pin is uniquely crafted from quality jeweler's metal. The Women's Rights Pin is 1-1/8"H x 3/4"W in size and is filled with a bright enamel and finely polished nickel plating. The Women's Equality Pin is 1-1/4"W x 7/16"H in size and is filled with black and white enamel and gold plated. Both perfect for pinning on a backpack, jacket, bag, collar, or anywhere patriarchy will see.
Express yourself with PinMart's Women's Rights and Women's Equality pins or let PinMart design and create the perfect custom pin for you!
About PinMart: PinMart, Inc.
PinMart, Inc. is a privately held company located in Elk Grove Village Illinois, a suburb of Chicago, specializing in the design and manufacturing of stock and custom emblems, custom lapel pins, and recognition and awareness products. PinMart sells products via its online store and offers custom design and manufacturing. PinMart has taken advantage of its well positioned internet presence and now boasts a client list that includes over 300 of the Fortune 500 companies.
For more information about PinMart, Inc., call 1-877-PINMART or go to PinMart.com.