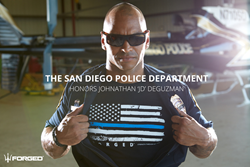 The military and law enforcement communities share a common bond. We are honored to be stepping in and leveraging our resources for the DeGuzman family
San Diego, CA (PRWEB) August 11, 2016
On Tuesday afternoon, August 9th, 2016 Forged®, a Veteran owned lifestyle clothing brand based in Southern California, hand-delivered a check to the San Diego Police Officers Association in the amount of $76,320.00 for the family of Jonathan 'JD' DeGuzman, a San Diego Police Officer who was fatally shot on the night of Thursday, July 28th, 2016.
A benefit fundraiser for the family of the fallen Officer had been initiated by Forged the morning after receiving news that Officer DeGuzman had been killed in the line of duty. Forged quickly pulled their resources together and created a tribute t-shirt to honor DeGuzman, and raise money for his widow and two children through the sale of the t-shirt FRONT LINE . The fundraiser quickly gained the interest of the San Diego Police Officers Association, as well as the San Diego Police Department -many of whose officers were already customers or familiar with the brand [Forged®] that had been founded in 2007, and has been known to run similar campaigns for fallen Naval Special Warfare Operators' families.
"The military and law enforcement communities share a common bond. We are honored to be stepping in and leveraging our resources for the DeGuzman family", said Michael Sauers, Co-Founder of Forged.
Ryan Brundage, Managing Partner of Forged Threadworks, Inc. [Forged] also added, "This campaign was created to help JD's family, as well as facilitate a spirit of community within our city". Brundage further explained, "By creating a talking point and actionable commemorative purchase, we mean to serve as a social catalyst for more dialogue and healing. At Forged we face a dichotomy that has us moving back and forth between our philanthropic duties to come to the aid of those in need, and maintaining a for-profit lifestyle clothing brand. We take great care in our transition back and forth between these two roles".
The Forged campaign for Officer DeGuzman's family ended at midnight, Saturday, Aug. 6th. With such an overwhelming response from active and retired Law Enforcement Officers from around the country, local San Diegan's, and the endless Forged® customer base, the brand [Forged®] was proud to announce on the morning of Aug. 10th that they had raised a total of $76,320.00 in just one weeks time. On their Facebook page and Instagram feed, Forged posted a photo of the donation check, along with the following;
"$76,320 Raised by 'YOU' for the Forged/DeGuzman Family Campaign! We are blown away by the outpouring of support this campaign received! In just one week we were able raise the funds to write this check for the family of fallen SDPD Officer Jonathan "JD" DeGuzman. We are humbled and honored by your participation and cannot say THANK YOU enough."
100% of the contribution raised by Forged will be gifted directly to Officer DeGuzman's wife by the San Diego Police Officers Association. Forged® considers it an honor to be of service and benefit to the local San Diego community.