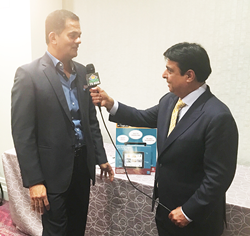 We are privileged to be among the high-caliber companies selected to exhibit at this event," said Manish Chauhan, MD FACC, founder of CardioVisual. "CardioVisual is a reliable, time-saving mobile app for both cardiologists and patients.
(PRWEB) August 11, 2016
The California Chapter of the American College of Cardiology (CA ACC) hosted its Inaugural Technology Fair in Hollywood - an empowering gathering that brought together practitioners and technology leaders who have developed and implemented new solutions in the field of cardiovascular medicine.
The purpose of the Chapter is to contribute to the prevention of cardiovascular diseases, to ensure optimal quality, cost-effective care for the individuals with such diseases, and to foster the highest professional ethical standards.
Sponsors AliveCor, California Technology Council, St. Jude Medical, and the Los Angeles County Medical Association organized an exhibitor and networking platform to present demonstrations and talks. Also present were leading physicians from the state to inform and inspire the conversation towards the continually evolving medical space, and the capability of developing solutions to the problems faced by physicians in medical practice.
The gathering was a unique opportunity for healthcare professionals to experience innovations in their field. The event — free for all medical professionals — was held on August 6 at the Loews Hotel in Hollywood, California.
Demonstrating exhibitor - CardioVisual, toSense, and lead sponsor AliveCor, garnered overwhelming responses for their awe-inspiring interactions.
CardioVisual, a cardiologist-created, free mobile multimedia app is a new, first-of-its-kind resource that makes it easy for healthcare providers to explain and for patients to comprehend heart conditions and medical procedures. The app provides over 100 short, easy-to-understand videos and graphically illustrated information on a variety of cardiovascular conditions, treatment and devices to enhance the professional-patient engagement and communication. It promises the convenience of reliable and updated information, reviewed by cardiologists, available anytime, any place, on any iOS or Android mobile device or tablet. Physicians and innovators at the event were excited to use this tool developed by their peer and share this further with their colleagues, patients and hospitals.
Other sponsoring product/ service ideas included medical tech innovators such as Dave Albert, MD, of AliveCor, a San Francisco company that produces a mobile ECG, and Matt Banet, CTO and founder of toSense, a body-worn sensor that remotely monitors thoracic impedance, heart rate, heart rate variability, respiration rate, skin temperature and posture. Speakers from Scripps Clinic, UC Irvine, toSense and AliveCor addressed the ideas of Digital Cardiology, mHealth Research, a collaboration of Engineering and Medicine, Non-invasive Measurements and Hemodynamic Parameters, among others. An exhibitor showed cutting-edge earphones that provide real-time coaching based on users' physiology and a vest that uses EM waves to measure lung fluid levels.
The California Chapter of the American College of Cardiology (CA ACC) boasts more then 3,500 Cardiovascular professionals. This event was a chance for clinicians, engineers, innovators and researchers to explore, ask questions and learn more about emerging technologies, their applications and discuss opportunities to further technology to help improve patient care and outcomes.