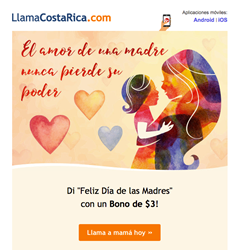 I have been subscribed to LlamaCostaRica.com for many years. I like it and I'm very satisfied with the service. (Marta Eugenia Pacheco)
Atlanta, Georgia (PRWEB) August 11, 2016
Costa Rican expats worldwide will receive a gift of $3 Voice Credit on every purchase of $20 minimum on LlamaCostaRica.com before August 13, 2016 (EST). The Bonus consists of calling minutes to both mobiles and landlines in Costa Rica using LamaCostaRica.com. The Bonus balance never expires. In order for the Bonus to be added automatically, one needs to have a free account and use the coupon code 4MYMTH3R when placing his or her order of $20 minimum on: https://llamacostarica.com/buy/voice
The Mother's Day Bonus is addressed to all those celebrating Mother's Day this month, and it is a way to support long-distance communication with one's family back in Costa Rica. The motto of the campaign is "El amor de una madre nunca pierde su poder" and is aimed to drag attention to the tight relationship Costa Ricans have with their mothers and the need for constant communication, despite the distance.
$3 gift balance with LlmaCostaRica.com can be redeem using coupon code 4MYMTH3R when making a purchase of $20 minimum. The great part about this kind of calling credit is that it never expires, and it can be used to make 157 calling minutes to landlines or 50 minutes to mobiles there, or a mix of the two, until one runs out of his or her balance. The regular rate to call landlines in Costa Rica with LlamaCostaRica balance is 1.9 ¢/minute, and to call mobiles there 5.9 ¢/minute.
LlamaCostaRica.com is a service dedicated to Costa Ricans worldwide and has been supporting international calls to Costa Rica for more than 10 years. There are 3 ways to call using this service:
-Using access numbers that require no Internet connection.
-Using KeepCalling app available in Spanish for Android and iOS devices.
-Using Web Call for calls from PC to any phone in Costa Rica, an app available in one's account on LlamaCostaRica.com
A free account on LlamaCostaRica.com comes with several advantages:
-Free features to upgrade the quality of the call, and make it "feel" like a local call
-Thank You points that can be converted into calling credit
-PayPal payment besides all major cards, no matter the currency of the account
-The chance to earn credit while recommending the service to other fellow expats
-Apps for iOS and Android users that prefer to call on the go
-Online transaction available online at any hour
-24/7 Customer Support
Besides the Voice Credit calls to Costa Rica, LlamaCostaRica.com also facilitates international online top ups to mobiles there, through the service called Mobile Recharge. The phone numbers in Costa Rica that can be refilled need to be subscribed to one of the following operators, in order to go through: Kolbi, Claro, FullMovil, Movistar, Tuyo.
LlamaCostaRica.com is mobile-friendly and comes with a series of default benefits:
-users can be notified by email about offers if they click on "Get offers" button on the homepage to subscribe.
-Payment is welcome in any currency, and Paypal is accepted besides all major cards.
-All transactions and invoices are available in a special section in chronological order.
-PhoneIndia.com is certified for its safety by "Verified & certified", Trustee, etc.
LlamaCostaRica.com is a brand of KeepCalling, a global telecommunications company registered in 2002 in the USA, that was by Inc 5000 as one of the fastest growing companies in the USA for 5 consecutive years. Presently, KeepCalling provides its services to hundreds of thousands of consumers and businesses, with a focus on customer satisfaction. In 2015 the company registered a revenue increase of over 200% from 2011 to 2014.