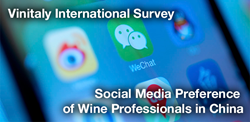 We are planning to carry out a three-part survey in order to get a better understanding of the ever-growing number of wine professionals in China, and this is the first part
Verona, Italy (PRWEB) August 11, 2016
As the number of internet users in China is constantly on the rise (688 million in December 2015) (Source: We Are Social, 18 August 2015, http://wearesocial.com/uk/special-reports/digital-social-mobile-china-2015)), more and more consumers are looking to Social Media channels as their main and most trustworthy source of information when having to carry out purchasing decisions. In the face of this new trend and as part of its mission to support Italian wine producers wishing to expand their share in the Chinese wine market, Vinitaly International has now carried out a survey aimed at mapping out, for the very first time, the social media preferences of Chinese wine professionals.
"We have been present in China via WeChat and Weibo for the past few years but since Jack Ma's visit to Vinitaly this year, we've noticed an exponential increase in interest for Italian Wines," explains Stevie Kim, Managing Director of Vinitaly International. "We have also created a community of KOLs through the Vinitaly International Academy, especially by leveraging our certified Italian Wine Ambassadors (http://www.vinitalyinternational.com/vinitaly-international-academy/expert-ambassador). We are planning to carry out a three-part survey in order to get a better understanding of the ever-growing number of wine professionals in China, and this is the first part. The other two parts to follow will include Top 10 influential wine personalities and 50 Top Italian Wines in China."
Censorship laws in China that block the use of Western counterparts have determined the surfacing of numerous local social media channels such as WeChat and Weibo which today represent an instant and cost-effective tool to reach out to consumers in remote third and fourth - tier cities where the wine market is slowly on the rise.
Since the Chinese market is far from being mature, many consumers rely heavily on the information offered online by wine professionals when making their final purchasing decisions. Thus, understanding their preference in terms of social media channels represents the first necessary step towards improving a company's social media strategy.
By drawing from a pool of 180 Chinese wine professionals, in July - August 2016, Vinitaly International carried out an online survey dividing China's diverse Social Media landscape in 8 main categories:
1- Communication
2- Microblog, Blog, Soft Blog
3- Business Networking
4- Online forums
5- SNS/Wiki
6- Video & Picture social
7- Live streaming platforms
8- E-commerce
The research was carried out through diaochapai.com, an online consumer survey platform.
Survey highlights:

WeChat and QQ remain the most used instant messaging platforms with respectively 99.37% and 60,38% of wine professionals using them on a daily basis via mobile devices, tablets and computers
80% of wine professionals have personal Blog accounts and update them regularly with Sina Weibo and Sina Blog being the most used
Surprisingly nearly half the interviewees don't use any form of business networking social media, whilst the remaining 41% choose Linkdin as their preferred channel
Despite the slow decline of Online Forums (BBS), their popularity among wine professionals is relatively high with Baidu Tieba ranking first place with 50% of users
Meitu and the international App, Instagram, are the most popular for picture sharing, whilst Aiqiyi and Youku Tudou are the main online video channels
Live streaming is slowly starting to gain popularity among wine professionals, especially Ingkee
Not surprisingly Taobao (70.44%), Tmall (50.94%) and JD (62.89%) are the most used e-commerce platforms where wine professionals turn to seek and share information
To read the entire survey go to http://www.vinitalyinternational.com/sites/default/files/Survey.pdf
About:
Veronafiere is the leading organizer of trade shows in Italy including Vinitaly (http://www.vinitaly.com), the largest wine and spirits fair in the world. During its 50th edition Vinitaly counted more than 4,100 exhibitors on a 100,000+ square meter area and 130,000 visitors from 140 different countries. The next edition of the fair will take place on 9 - 12 April 2017. The premier event to Vinitaly, OperaWine, (http://www.vinitalyinternational.com) "Finest Italian Wines: 100 Great Producers," will unite international wine professionals on April 8th in the heart of Verona, offering them the unique opportunity to discover and taste the wines of the 100 Best Italian Producers, as selected by Wine Spectator. Since 1998 Vinitaly International travels to several countries such as Russia, China, USA and Hong Kong thanks to its strategic arm abroad, Vinitaly International. In February 2014 Vinitaly International launched an educational project, the Vinitaly International Academy (VIA) with the aim of divulging and broadcasting the excellence and diversity of Italian wine around the globe. VIA this year launched the second edition of its Certification Course and today counts 54 Italian Wine Ambassadors and 3 Italian Wine Experts.
###