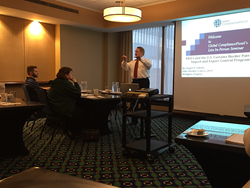 Salt Lake City, UT (PRWEB) August 12, 2016
NetZealous, a leading provider of regulatory compliance trainings for a wide range of regulated industries, will organize a two-day seminar through its premier brand GlobalCompliancePanel, in Salt Lake City, Utah on the topic, "Tougher Import Rules for FDA Imports in 2016" on September 15 and 16, 2016. The Director of this seminar, Casper Uldriks, is an ex-FDA Expert and former Associate Center Director of CDRH, Olsson.
More details about the seminar can be had from
http://www.globalcompliancepanel.com/control/globalseminars/~product_id=900459SEMINAR?channel=mailer&camp=seminar&AdGroup=PRWeb_PR_AUG12_2016_SEO
This seminar will engage participants on all these topics and impart learning on the ways by which to avoid these and related common problems that can become prohibitively expensive in the absence of a proper strategy and plan for dealing with. The key to this is using established and effective business planning, which the seminar will inculcate over the two days of learning. The course will also include tips on how to understand FDA's thinking and offer anecdotal examples of FDA's import program idiosyncrasies.
About the Director:
Casper Uldriks is an ex-FDA Expert and former Associate Center Director of CDRH, Olsson. He served as a senior manager in the Office of Compliance and an Associate Center Director for the Center for Devices and Radiological Health. He developed enforcement actions and participated in the implementation of new statutory requirements for FDA.
Satisha Naraharimurthy, Founder and CEO of NetZealous, is confident that this seminar from his company will be imparting important knowledge of how to deal with the FDA's import rules set out for 2016. Since the stringency has gone up along with the penalties for noncompliance; it is good for importing companies to get a thorough understanding of how to deal with the new rules, he said, hoping that this seminar will fulfil this need.
"Some of the areas of the new import rule need clarification. In the absence of this; importing companies can unnecessarily cough up huge sums of penalty. We want to organize a seminar that will educate importers on the new rules from the FDA, grasping which they can remain compliant and avoid paying huge penalties", said Shahanshah Manzoor, Co-Founder and Chief Marketing Officer at NetZealous.
Liju Mathew, Co-Founder and Chief Business Development Officer at NetZealous, believes that this seminar is an indication of NetZealous' thorough understanding of the industry's needs and requirements. "We are confident that following the learning gained at this seminar; importers and those who get affected by the FDA's new import rules for 2016 will be able to comply with the new requirements, failure to do which will lead them to paying exorbitant penalties", he said.
NetZealous, a Fremont, CA-registered organization, DBA GlobalCompliancePanel offers a broad range of high quality regulatory and compliance-related professional trainings and services relating to medical devices, pharmaceutical, FDA, clinical trials, laboratory compliance, biologicals, drugs, food and biotechnology.
Contact information:
Call: 1-800-447-9407;
Visit: http://www.netzealous.com/