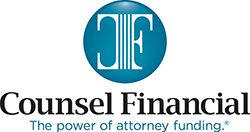 It's a fantastic organization that truly helps kids 'in the moment' when they are facing their toughest battles.
WILLIAMSVILLE, NY (PRWEB) August 12, 2016
Counsel Financial, the nation's largest law firm financing company, is proud to have been the host of the annual Drive for Dreams gala and golf tournament fundraiser to benefit the Mikey's Way Foundation. The event, hosted on August 7 & 8, 2016, raised $250,000 with proceeds going directly toward funding Mikey's Way Days at hospitals in Western New York.
The mission of the Mikey's Way Foundation is to be able to connect every hospitalized child with their friends, family and school, enabling them to cope with the separation during long-term treatment for cancer and other life-threatening illnesses. They achieve this by delivering internet-ready electronics to children at absolutely no cost to their families. Each child chooses the device that they feel will best help them connect and divert their attention while undergoing procedures. Since inception in 2005, the Foundation has served over 4,500 children nationwide.
Counsel Financial actively promotes community involvement and culminates their commitment annually through the Drive for Dreams benefit. The event boasted its largest attendance to date, with close to 500 guests gathering for a night of comedy, exciting auctions and moving presentations, followed by a fun-filled golf tournament the next day. Paul Cody, President of Counsel Financial and the 2016 recipient of the "Mikey's Way Hero Award" commented, "The Mikey's Way Foundation is close to all of our hearts. It's a fantastic organization that truly helps kids 'in the moment' when they are facing their toughest battles. We are honored to be able to assist in their fundraising efforts and are very grateful to the tireless volunteers and corporate sponsors that allow this event to be possible."
For more information on the Mikey's Way Foundation and other events throughout the year, or to make a donation, please visit mikeysway.org.
About Counsel Financial
Counsel Financial is the largest provider of working capital lines of credit to plaintiffs' attorneys in the industry, having loaned over $1.5 billion exclusively to plaintiffs' attorneys in its 15-year history. Counsel Financial sets the standard for innovation and flexibility in its loan offerings, structuring terms that are conducive to the unique demands of contingency-fee practices. Leveraging 200+ years of internal legal experience, Counsel Financial has financed the growth of firms in every area of plaintiffs' litigation, including personal injury, mass torts, class action and labor and employment. The company is exclusively endorsed by six national and state trial organizations, including the American Association for Justice and The National Trial Lawyers.