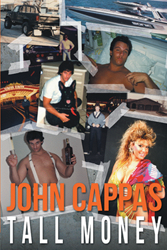 Bloomington, Ind. (PRWEB) August 11, 2016
Author Solutions, LLC, the world leader in supported self-publishing services, has announced today that AuthorHouse title "Tall Money," (ISBN: 978-1-47726-152-1) the autobiography of Chicago crime kingpin John Cappas, has been signed to a shopping agreement with longtime studio executive turned producer John Sacchi and his colleague, Matt Groesch. Sacchi and Groesch will produce Cappas' life story under Sacchi's 5 More Minutes Productions company banner.
"Tall Money" details the incredible true story of John Cappas, who, in the 1980s, went from promising Marist High School wrestler to cocaine kingpin of the Chicago suburbs. At the height of his empire, Cappas was bringing in over five figures a week off his prep school customers. At 23 years old, Cappas surrendered to authorities and was sentenced to 45 years. He was released from prison on appeal after a sentence reduction in 2004.
Author Solutions' Hollywood-based director of media services, Caroline Weiss, identified the title in AuthorHouse's library and tipped off Groesch, a Chicago native. "At first glance 'Tall Money' is a wild story of teen rebellion, money and corruption that's hard to believe is true; however, after reading more, you quickly see the many layers within this rare coming-of-age story of family and loyalty that also blurs the lines between who the real criminals are."
For more information about Author Solutions' self-publishing services, please visit authorsolutions.com, follow @authorsolutions on Twitter and "like" us at facebook.com/AuthorSolutions for the latest supported self-publishing news.
###
About Author Solutions, LLC:
Author Solutions, LLC, is the world's leading supported self-publishing services provider. Author Solutions' leading self-publishing imprints—AuthorHouse, iUniverse, Palibrio, Trafford Publishing and Xlibris—have helped more than 200,000 authors self-publish, promote and bring to market more than 275,000 new titles. Through strategic alliances with leading trade publishers, Author Solutions is making it possible to develop new literary talent efficiently and providing authors with a platform for bringing their books to market. Headquartered in Bloomington, Indiana, Author Solutions' global reach includes imprints developed specifically for authors in Australia, New Zealand, the United Kingdom, Singapore, Africa and India. For more information, please visit authorsolutions.com. For the latest news, follow @authorsolutions on Twitter and "like" them at facebook.com/AuthorSolutions.
About John Sacchi:
Hollywood veteran John Sacchi has spent over 20 years in the entertainment industry, including 15 years as a production and development executive at Lionsgate Films, where he oversaw films in every genre. Since hanging his own production shingle, 5 More Minutes Productions, he has been actively developing material to produce for film and television.