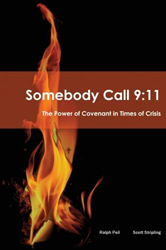 ... paint a bold and hopeful portrait of God's hand at work in the midst of the current depravity.
Katy, TX, (PRWEB) August 15, 2016
Within the pages of Ralph Peil and Scott Stripling's new book, Somebody Call 9:11 - The Power of Covenant in Times of Crisis, ($18.99, paperback, 9781498479233) readers will be reminded that the God of the Bible is a God of Covenant. Through the combined efforts of Peil and Stripling, readers will gain a better understanding of the Bible while learning about the form and structure of ancient covenants and how they apply to today's world. God's work in and through these impressive authors will motivate readers to press into their relationship with the Lord. Fascinating insights will also be gained from the field of Biblical Archaeology.
As Wallace Henley, Senior Associate Pastor at Second Baptist Church of Houston, describes this book, "Using the attack on New York's Twin Towers on 9/11, they show God's fierce commitment to His Covenant with the human race, and all of history's significant events point to it. Between every line of what many regard as 'boring' history, Covenant appears."
Both authors offer extensive familiarity on this subject and they substantiate their points with references from many different sources, both biblical and historical. Their combined writing voice is a nice balance of conversational and academic, making a complex topic easily understandable. Most readers will find their writing both interesting and thought provoking – especially reading the chapters devoted to each author's individual testimony.
"Our goal is not merely to demonstrate the dysfunction in the world (this is all too apparent)," states the author. "But to paint a bold and hopeful portrait of God's hand at work in the midst of the current depravity."
Here is what some prominent leaders are saying about this thought-provoking book:
"In the midst of this brokenness and violence, Somebody Call 9:11 is a poignant and timely reminder that God is very much in control and at work in our world. Using a fascinating and unique combination of church history, insightful scriptural exegesis, Biblical archeology and their own personal faith journeys, Dr. Scott Stripling and Dr. Ralph Peil remind us that as followers of Jesus, we can find encouragement, comfort and hope in the very difficult and perplexing times that we live in." – Paul Osteen, M.D.
"Somebody Call 9:11 conveys clearly that while we may live in a troubled world, we are not without hope. The message comes through loudly and clearly that our loving God, who gives hope to all, has always been at work doing more behind our backs than in front of our faces. The reader will enjoy getting to know the authors and seeing many things from their combined experience and perspective. – Ron Corzine, Founder of Christian Fellowship International
Author Ralph Peil is a retired physician and a lay leader in Evangelical Christianity.
Author Scott Stripling is an active field archaeologist, directing excavations in Israel at Khirbet el-Maqatir and Shiloh.
Xulon Press, a division of Salem Media Group, is the world's largest Christian self-publisher, with more than 15,000 titles published to date. Retailers may order Somebody Call 9:11 - The Power of Covenant in Times of Crisis through Ingram Book Company and/or Spring Arbor Book Distributors. The book is available online through xulonpress.com/bookstore, amazon.com, and barnesandnoble.com.
Media Contacts: Ralph Peil and Scott Stripling
Email: sstripling(at)aol(dot)com