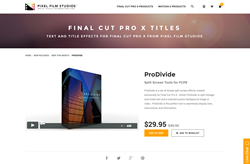 ProDivide's set of simple split screen effects seamlessly display lists, interactions, information or any media needed for your next video project
Aliso Viejo, California (PRWEB) August 16, 2016
"ProDivide's set of simple split screen effects seamlessly display lists, interactions, information or any media needed for your next video project," said Christina Austin - CEO of Pixel Film Studios.
ProDivide is a set of split screen animation tools created for Final Cut Pro X. Easily draw viewers' attention to informative text, step-by-step instructions, or pictures/videos. This plugin will complement any presentation, instructional videos, or youtube video productions.
With ProDivide, Final Cut Pro X editors can divide vertically and horizontally. Control the split angle, split amount, and split position with easy-to-use sliders that can be found in the inspector window. Utilize the "Split Guides" checkbox to determine the perfect seam to divide.
In addition to split controls, customizable background controls are provided. Video editors can use a colored background or insert a custom background with the drop zone provided. For greater contrast, users can apply a colored tint to the media within the drop zone. Lastly, editors can add a drop-shadow to the scene to achieve a sense of depth.
ProDivide includes four animation speed presets ranging from half a second to two full seconds. Additionally, each preset includes custom intro and outro animation speed controls that can be found in intuitive drop-down menus. To adjust the duration of the time between animating in and animating out, simply adjust the length of the ProDivide preset in the FCPX timeline.
Established in 2006, Aliso Viejo, California-based Pixel Film Studios is an innovative developer of visual effects tools for the post-production and broadcast community. Their products are integrated with popular non-linear editing and compositing products from Apple FCPX. Apple, the Apple logo, Mac OS X, and Macintosh are registered trademarks of Apple Inc. in the U.S. and/or other countries. All other trademarks and trade names are the property of their respective owners.