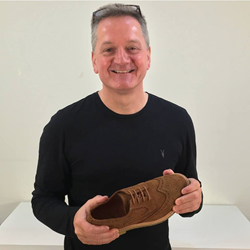 I wanted to create a Men's collection that I could be proud of
(PRWEB UK) 13 August 2016
Filling the the gap between Northampton welted shoes at £200+ and the slew of Men's brands at sub £100, LSQ Shoes launches its pilot collection this season. A collaboration between footwear veteran Nigel Carr and young British designer Blake Robson, LSQ captures the essence of great British shoemaking with a progressive twist.
"I wanted to create a Men's collection that I could be proud of, using just the best materials we could get our hands on. The new suede collection for example uses the best quality, close cropped suede, real crepe and calf leather linings – we just can't make them any better." said Carr.
The range of shoes retails squarely at the £150 mark with boots around £175 and is comprised of a solid range of polished and burnished leather brogues, loafers and smart "Postman Shoes" as Carr calls them. "Derbys in high shine leather with smooth vamps and black to the floor detailing, complemented by the same treatment on our brogue boots."
There is a burnished tan brogue, high shine saddle and tassel loafers, Chukka and Chelsea boots and a tight work boot collection. "We have hit the on trend, commercial looks to provide readily saleable styling for retailers, but nothing of what we do could be considered boring. From the wide leather rand, handmade soles, the 20mm pitch on the last to the smart gold LSQ Shoes plaque under every pair, there is a slight twist to everything." Said Carr.
"The collection is aimed at the fashion conscious man who is bored by traditional British brands and wants something a little more edgy, but easily wearable." Robson added.
This is an impressive first collection from the duo who have developed the brand in collaboration with partner, Rondon Shoes in Northern Portugal. "Rondon have a long history of working with UK retailers so understand the market, but they also have partnerships in Europe so get the branded side too." Carr told us.
The collection is available on short order with an impressive 8 week lead time for new orders and repeats. The Company already have agents for the North and South of England, Ireland and Australia as well as selected territories around the EU and North Africa. Details of which are on their website.
What does LSQ stand for?, I asked Carr, "Luxury, Style and Quality, obviously" he replied with a cheeky smile!
The brand will be showing at Micam: Milan September 3rd-6th, Hall 4 Stand K02 and Première Class/Who's Next in Paris, Pav. J 129 during the same period.